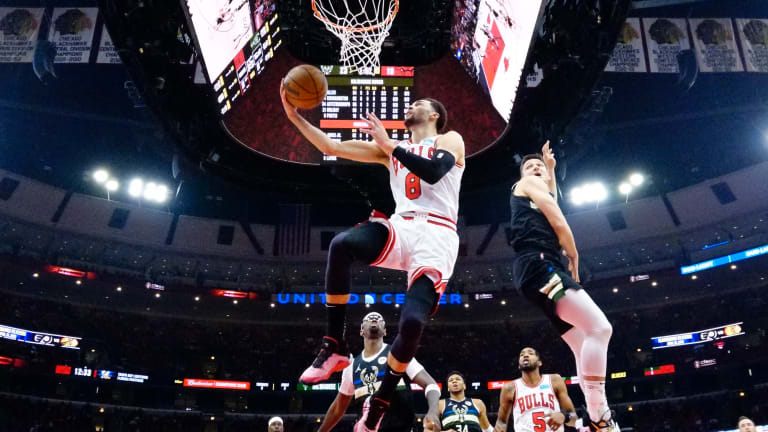 Chicago Bulls 2022-23 Player Profile: Zach LaVine
The Chicago Bulls All-Star is preparing to enter the 2022-23 NBA season on his new max contract.
Chicago Bulls All-Star guard, Zach LaVine, is entering the 2022-23 NBA season under pressure. LaVine signed a max contract back in July. Once a player signs one of those, the pressure is on. LaVine needs to be "The Man" heading into the new season. 
Zach LaVine
LaVine has proven, on occasion, that he has what it takes to take over a game. See the clip below when he led the Chicago Bulls in a comeback victory against the Charlotte Hornets. 
He's also gained recognition throughout the entire league as a top player. In ESPN's new rankings, he ranked as the 27th best player in the league. 
Over the last two seasons, the NBA named Zach LaVine an All-Star twice. In those two years collectively, LaVine has averaged 25.8 PPG, 4.8 RPG, and 4.7 APG. He shot 49% from the field, 40% from downtown, and 85% from the charity stripe in 125 total games. 
The Bulls' success is paramount to LaVine's health. Last season, he dealt with a plethora of injuries that forced him to miss time or change the way he plays the game. From a torn thumb ligament to a knee injury, LaVine was unable to stay healthy for the entire season. 
One thing is for sure. The front office team of Arturas Karnisovas and Marc Eversley are invested in LaVine being the future. This franchise is his going forward. But it's up to Zach LaVine to help bring the Chicago Bulls where they want to go.