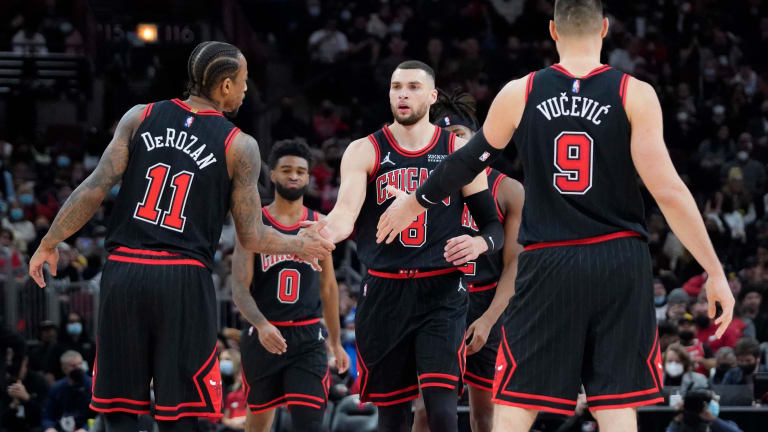 Billy Donovan Calls Out LaVine, DeRozan, Vucevic For Slow Starts
Whether or not the Bulls' "big 3" can start games with more of a push will heavily impact the team's ability to turn things around.
It's no secret that the Chicago Bulls have come out flat to start games all season. Doing so results in playing from behind, which then requires amplified production out of everyone, especially star players, to close the gap.
Head coach Billy Donovan identified those star players — Nikola Vucevic, DeMar DeRozan, and Zach LaVine — as the main culprits for the Bulls' struggles early in games.
"I've got a lot of respect on a lot of levels for Vooch and DeMar and Zach, of who they are as players," Donovan said. "We're never gonna be as good as we can be as a team until, in my opinion, those three guys drive the opening part of the game."
Donovan isn't wrong. While all three players typically finish with solid stat lines, their production usually ramps up when the Bulls embark on mid-to-late-game runs. The problem with that is, after the "big 3" close the gap, they have to sit on the bench. Then the gap seems to widen again.
No question about it, tensions are high surrounding the Chicago Bulls amidst a four-game losing streak.
The Bulls' response in the immediate aftermath of Billy Donovan's critique wasn't up to par as they trailed the Orlando Magic 37-24 after the first quarter on Friday night. And Zach LaVine riding the bench in the final minutes of the loss to a lowly Orlando squad only adds to the animosity.
But the fact remains, the Bulls must pick up their play if they want to be competitive in the Eastern Conference. Whether or not the aforementioned trio can start games with more of a push will heavily impact the team's ability to turn things around.
And while Donovan's comments come off as a "call out," in the same breath he also believes those players are the key to rectifying the issue.
Their next opportunity to do so is right around the corner as the Chicago Bulls host the Boston Celtics on Monday night.
RELATED: Billy Donovan Wants to See More From Patrick Williams