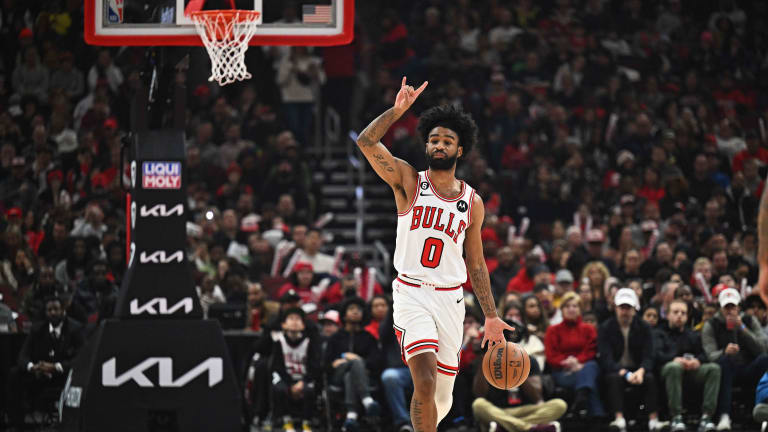 Chicago Bulls Guard Coby White Could Be On The Trade Block
Chicago Bulls guard Coby White has been brought up in trade discussions as the NBA Trade Deadline nears.
It's trade season! Are the Chicago Bulls going to be buyers or sellers? That's the million-dollar question. It's been reported that the front office doesn't want to break up their "core." If that's the case, the franchise still believes it can compete, despite being four games under .500. 
Yesterday, a report came out stating that the Bulls wanted to hold onto guard Alex Caruso and forward Patrick Williams. Though, the Bulls are still looking to improve their team and guard Coby White's name has been floated as a potential player on the move. 
NBC Chicago Bulls Insider K.C Johnson recently appeared on the Hoops Hype podcast. He spoke to Michael Scotto about the Bulls, where they stand, and potential trade packages as the trade deadline approaches. 
"He's been available and been in a lot of talks," Johnson said about White. "To be frank about the Bulls, it illustrates they won't just give him (White) away. They were offered direct packages (for White). One team I reported for sure was Memphis last summer. … When I talk about them potentially being buyers at the deadline, he'd be one of those pieces where you try and get him in a package. I think individually, his trade return is not that significant, but in the right package with that lottery-protected Portland pick…if they're buyers, I think he'd be in whatever package they send out."
White is averaging career lows in minutes per game and points per game. Though, he has improved his ball handling (averaging less than one turnover in 20 MPG) and his defense. White is only 22 years old and has shown the ability to score in bunches. Like K.C. said above, the Bulls would likely attach Portland's first-round pick in a deal with White to sweeten the return.