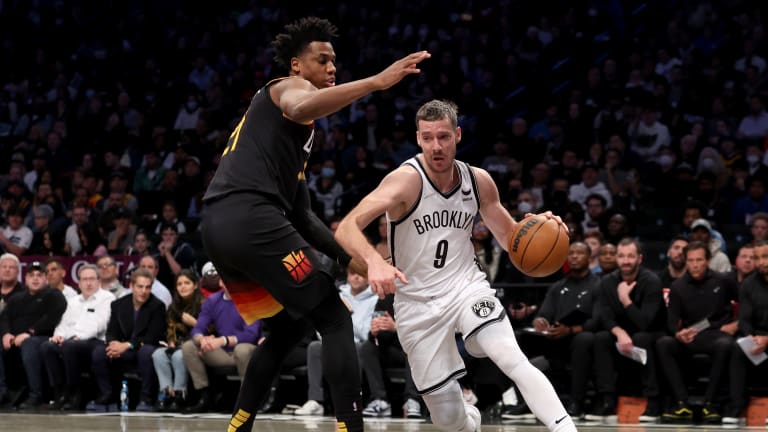 Chicago Bulls Guard Defends Bucks Giannis Antetokounmpo
Newly acquired Chicago Bulls guard Goran Dragic defended Antetokounmpo from comments made by former NBA guard Gilbert Areans.
Former NBA point guard Gilbert Arenas made some controversial comments about Milwaukee Bucks forward Giannis Antetokounmpo. On the "No Chill Podcast", Arenas said that people should stop saying Antetokounmpo is the best player in the league. 
Arenas said that Antetokounmpo "isn't even close" to being the best player in the league. The above clip provides Arenas' opinion on Antetokounmpo. Arenas added that Antetokounmpo "doesn't know how to be great." Someone should tell Arenas that Antetokounmpo is a former MVP and NBA Champion. He already knows that, but just let him know again. 
Newly acquired Chicago Bulls guard Goran Dragic didn't agree with Areans' criticism of Antetokounmpo. The 14-year veteran was asked by a reporter what he thought of Areans's comments, and he didn't hold back. 
"Giannis (Antetokounmpo) is the MVP. Gilbert Arenas is not. Was he ever the MVP? I don't think so. So he can't talk about Giannis. Giannis won the championship, won the MVP award. He has been the Defensive Player of the Year." - Goran Dragic 
It's an odd flex by Arenas to make such outlandish comments about Antetokounmpo. Whether it was done for shock value or some other odd reason, Dragic wasn't having it. Dragic sticking up for Antetokounmpo in this situation shows how well respected the former MVP is around the league. Maybe if Arenas pays attention and actually watches Antetokounmpo play, he'll change his opinion.