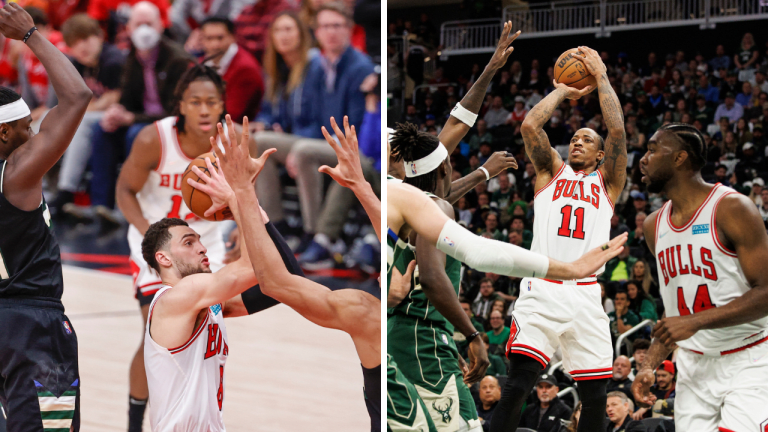 Who Do You Want to Take the Last Shot for the Chicago Bulls in 2022-23?
Bleacher Report is running a poll on which Bulls' player should take the last shot in a close game. Who would you pick?
It's nice to have multiple options, isn't it? Bleacher Report is currently running a poll on their website asking Chicago Bulls' fans which player they would want to take the last shot in a competitive game. There are three player options listed and one choice that says "other."
As expected, DeMar DeRozan, Zach LaVine, and Nikola Vucevic are the listed options. Any one of those players would be a solid choice to take the last shot. Vucevic had a down year in 2021-22, which most likely forces us to choose one of LaVine or DeRozan.
DeMar DeRozan
Last season, DeRozan scored 157 points in the clutch. The only player who scored more points than him in such situations was Joel Embiid with 158 points.
DeRozan shot 53.5% in the clutch in 2021-22 and had two of the most memorable game-winners of the season. On New Year's Eve, he sank a three against Indiana to win the game with time dwindling down. The very next night, DeRozan reprised his act to beat Washington.
Zach LaVine
LaVine wasn't a slouch in the clutch either. He shot 49.2% in the clutch and had a total of 93 points. That's good enough for the top 15 in the NBA.
LaVine also battled a plethora of injuries in 2021-22. He fought a thumb injury and a knee issue which plagued him until the Bulls' first-round exit in the playoffs.
Who would you choose to take the last shot for the Chicago Bulls? Let us know over at Bulls On Tap on Twitter!