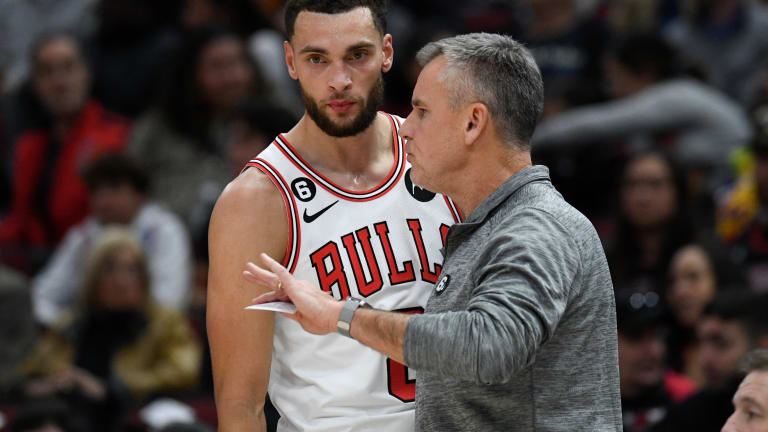 Bulls' Locker Room Disconnect Worse Than Initially Thought
Not only are the Bulls losing games; they're losing faith in each other.
Color me shocked. The Chicago Bulls players aren't happy with each other and how this season is going. Shams Charania of The Athletic recently highlighted the struggles currently taking place inside the Bulls' organization.
Charania notes that the Bulls have held several team meetings but they "have not led to in-game results." This sheds even more light on Billy Donovan's comments after Sunday's brutal blowout loss to the Minnesota Timberwolves.
"We can have all the conversations we want back in the locker room, I don't think it's my place to share things," Donovan said. "But it doesn't make a difference what's talked about back there. When you do talk like that, you need to back it up."
In light of Donovan's remarks, Charania notes there has been "increased skepticism within the locker room about the head coach and coaching staff." He also reports that LaVine and the organization are not seeing "eye to eye."
This is a major problem — one that's bigger than most outside observers initially thought. LaVine is in the first year of a max contract extension. Chicago owes LaVine $215 million over five years, and there are problems already? The 2022-23 season isn't even halfway through yet.
The Bulls already have plenty of tactical issues to deal with. At 11-18, Donovan's team is currently in 11th place in the Eastern Conference. They rank 22nd in offensive rating and 17th in defensive rating, per NBA.com. The Bulls are 3-7 in their last 10 games, and there are only four teams in the NBA with fewer total wins.
As if those problems weren't enough, they now have added drama hanging over their heads.
Arturas Karnisovas and Marc Eversley have been hiding during this avalanche. It's time for them to show their faces and address what is going on within the Chicago Bulls' locker room.