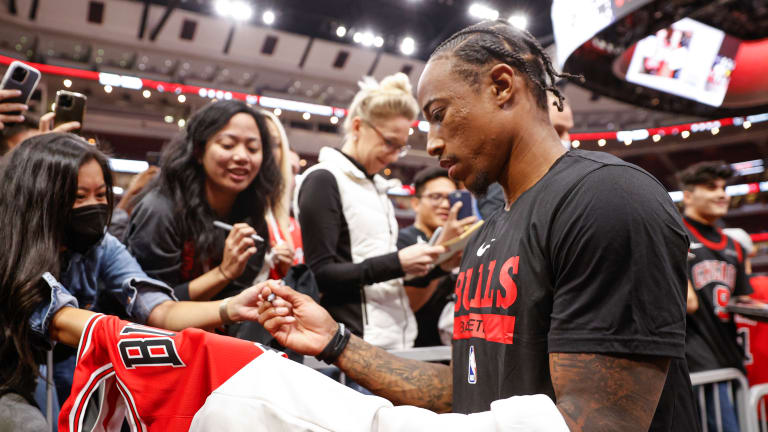 Bulls' Fans Cautiously Optimistic Despite Preseason-Opening Loss to Pelicans
The New Orleans Pelicans beat the Chicago Bulls 129-125 in the preseason opener. However, some Bulls fans are cautiously optimistic about this season.
It was 2,366 days ago since I last stepped into the United Center covering the Chicago Bulls as a credentialed media member.
That Wednesday, April 13, 2016, the Bulls starting lineup was much different than today's, with Jimmy Butler leading the way, followed by Justin Holiday, Christian Felicio, Tony Snell, and Nikola Mirotic.
The Bulls finished just two games above .500, and the atmosphere in the arena was smothered by uncertainty. Subsequently, Chicago's own Derrick Rose was traded to the New York Knicks, making Jimmy Butler the face of the franchise.
A lot has changed since those days, and Bulls' fans at Tuesday's preseason opener against the New Orleans Pelicans quickly told me how excited they are for this upcoming season.
Yes, the team is starting the season off without Lonzo Ball, and yes, the Bulls gave up 70 points in the first half. Nevertheless, many people are optimistic, despite what others are saying.
"Man, it is only preseason, and we have a solid squad," Rick from Chicago's southwest side said. "I think we will finish at least in the top four. We can't go backward."
Rick's optimism is much higher than PointsBet's projection. The online sportsbook released its win-total odds which have the Bulls headed for the play-in tournament.
Nevertheless, Rick says there are a lot of unknowns throughout the conference.
"Let's be honest, everybody is looking at Brooklyn, and on paper, they have a great squad, but what does that really mean in an 82-game season," said Rick.
Some fans aren't as optimistic as Rick but are hoping the Bulls could at least make Chicago sports interesting. Justin, from Chicago's Lakeview neighborhood, says he'll be happy with a team that just plays hard and wins.
"Baseball is over with here in the city, and don't get me started on the Bears," said Justin. "I think they say Lonzo [Ball] should be back by December or January, so other guys just gotta step it up."
Arturas Karnisovas told reporters last Monday he isn't putting a timeline on when Ball will return. Ball mentioned how difficult it is for him to do simple things like jump and walk up a flight of stairs. Later that week, he had surgery, and it was successful leading many to believe he could return at some point this season.
Regardless of injuries and despite what other teams in the Eastern Conference are doing, Zach LaVine says the Bulls are in win-now mode. He'll be the first to tell you that regression is not an option this season. LaVine told reporters the overall goal is for this team this year to compete for a championship.
"If they're not high, what are we doing here? We're a team that held a top record in the East all the way until after the All-Star break, got a playoff berth, and got our feet wet," said LaVine. "If we're not competing for a championship, we're selling ourselves short."
This team may look different from the last time I covered it, not to mention the additions to the United Center since 2016. Nevertheless, one thing remains the same with Chicago Bulls' fans: they are cautiously optimistic waiting for the glory days to return.
I guess we will revisit this conversation six months from now.