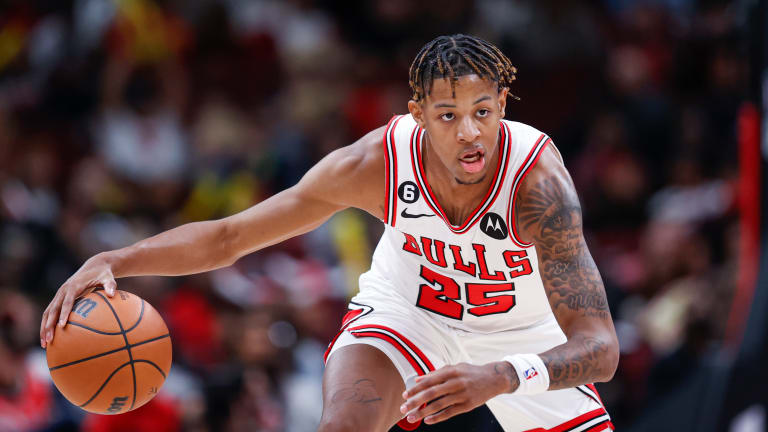 Bulls Recall Dalen Terry, Malcolm Hill With 2 Players Ruled Out vs. Hawks
The duo departed the Las Vegas G League Showcase to join the Bulls in Atlanta.
The Chicago Bulls are bringing some reinforcements with them to Atlanta. Dalen Terry and Malcolm Hill have both been recalled from the Windy City Bulls of the G League ahead of Wednesday's game against the Hawks.
This news comes just hours after the Bulls ruled out Goran Dragic and Derrick Jones Jr. on the injury report. Dragic is dealing with left ankle soreness while Jones Jr. sustained a left ankle sprain Tuesday against the Miami Heat.
Dalen Terry, the Bulls' 2022 first-round draft pick, is averaging 12.6 PPG, 6.8 RPG, and 4.9 APG in 10 games at the G League level. He has seen limited NBA action, averaging 1.1 PPG just 11 games for the Bulls this season.
Malcolm Hill is one of the Bulls' players on a two-way contract. He has appeared in just three games for Chicago this season after playing in 16 NBA contests last season. In 15 games for the Windy City Bulls, Hill is averaging 15.6 PPG, 5.2 RPG, and 2.9 APG.
The Chicago Bulls will look to get some revenge on the Atlanta Hawks in their second head-to-head meeting of the season after losing an overtime heartbreaker on Dec. 11. The Eastern Conference foes tip off at 6:30 PM and the game will air on NBC Sports Chicago.