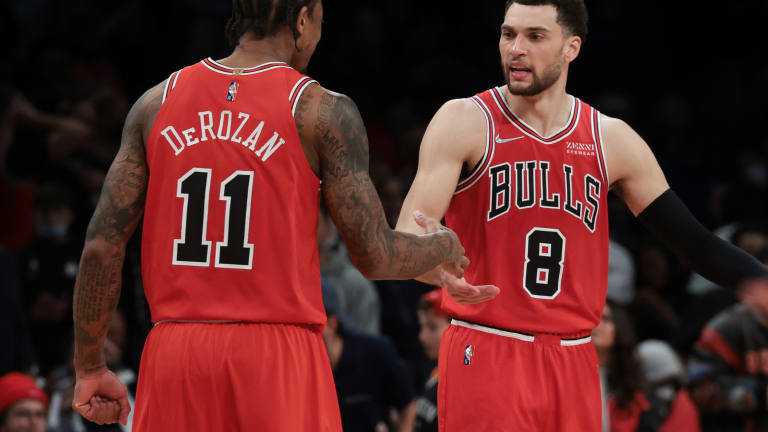 Chicago Bulls 2022-23 Roster Breakdown
Here's what each Bulls player brings to the 2022-23 roster.
The Chicago Bulls are all tuned up and ready to compete for the NBA title this year. Head coach Billy Donovan is his roster back with 12 players returning from last year and a few new faces. Here is who they are and what they need to do to help the Bulls. For full in-depth analysis, click on the player's name to read their full profile.
Guards
Ayo Dosunmu is in his second NBA season, and it's also a contract year for him. After a stellar rookie season, he is the starting point guard with Lonzo Ball still recovering from knee surgery.
Bulls' guard Alex Caruso was the glue that held the Bulls' defense together last season. He missed chunks of time due to injuries, however, and the Bulls often couldn't find consistency on defense without him.
Coby White is also in a contract year. In 2021-22, he struggled with consistent shooting and overall play on the defensive end. To take the Bulls to the next level, White will have to provide a solid showing off the bench. He must also help fill the hole left by Lonzo Ball in the first half of the season.
Lonzo Ball only played in 35 games last year. When he was in, the Chicago Bulls were a top-10 defense. Without him, the Bulls were one of the league's worst defenses. The expectation is for Ball to work his way back and just be healthy. While he has many milestones to his in his recovery, experts are projecting a return around mid-January.
Goran Dragic was one of the Bulls' notable offseason addition. The veteran point guard brings experience to a young Bulls roster. Dragic should be one of the Bulls to excel behind the three-point line this year. He specifically shoots well from the corners, which is where Lonzo Ball typically would be, so Dragic can help soften the blow of Ball's absence. Dragic only saw minimal time last year as he recovered from a knee injury, but he did have a strong showing in EuroBasket 2022.
The Chicago Bulls gave Zach LaVine a max contract extension in the offseason, cementing him as the centerpiece of the roster. LaVine played well last year but had issues with multiple injuries that kept him less than 100%. This year, he is expected to play like the superstar that a max player should be. LaVine just has to stay healthy and make improvements on the defensive end in 2022-23.
Forwards
Derrick Jones Jr. comes into this season as a depth piece for the Bulls. He can hold his own on defense and provide a great slashing option on offense. While he may not get a lot of minutes, he is very efficient on the floor.
DeMar DeRozan outperformed his expectations last year and carried the majority of the offensive load for the Bulls. While he set a high bar for himself during his first season in Chicago, DeRozan seems up to the challenge of leading the Bulls once again.
Javonte Green showed impeccable growth throughout the preseason. He is a high-motor player that always finds a way to give the Bulls energy. Green may be undersized, but he finds ways to tip passes and create turnovers. On offense, he shoots well and finds open lanes to cut.
Dalen Terry was the Chicago Bulls' first-round pick in the 2022 NBA Draft. He was a solid defender and could contribute on offense during his time at Arizona. In the preseason, he did that and more. Terry has been extremely vocal for a rookie and is always finding ways to score. While he isn't a great jump shooter, he has found other ways to score consistently.
Patrick Williams is the biggest question mark for the Bulls this season. The former fourth-overall pick has not shown the confidence to live up to his draft slot yet. Injuries plus inconsistency when it comes to shooting and defending have held him back so far. He must elevate his game if the Bulls want to make a deep run in 2022-23.
Malcolm Hill was a nice end-of-the-bench player last year. He was used during the times when the Bulls were COVID- and injury-depleted. When Hill did get minutes, he put together some nice scoring runs. The expectations are the same this year, but he could easily surprise toward his upside.
Kostas Antetokounmpo is the young brother of Bucks' forward Giannis Antetokounmpo. While he did not get much playing time in four preseason games, he still has solid upside. Being 24 years old with a 6-foot-10 and 200-pound frame is enough to keep him on a two-way deal between Chicago and the Windy City Bulls.
Centers
Nikola Vucevic had a decent but still slightly underwhelming 2021-22 season. He was able to average a double-double but was abysmal from three. As a result, defenders were dropping to the paint and clogging the cutting lanes. On defense, Vucevic was the Chicago Bulls' only rim protector. This caused him to get into foul trouble late and play more cautiously on defense.
Andre Drummond was the Bulls' other key addition this offseason. He will be Chicago's other rim protector along with Vucevic. They will most likely play opposite each other. Drumond's presence will allow Vucevic to get rest and stay out of foul trouble. Drummond can provide a big paint presence for the Bulls. He consistently tips passes and gets blocks and quickly flips the floor by getting the ball out in transition. On offense, he provides a physical back-to-the-basket presence.
Tony Bradley has underperformed since he arrived in Chicago. He was expected to be a paint presence but has lacked in that area. He will likely get minimal playing time and could be moved early in the season to create cap space.
Marko Simonovic is another "break glass in case of fire" kind of guy. He split time with the Windy City Bulls and the NBA squad last season. He was dominant at the G League level but was quiet even in garbage time when he saw the floor for the Chicago Bulls. This season will be big in determining if he is an NBA-caliber player or not.