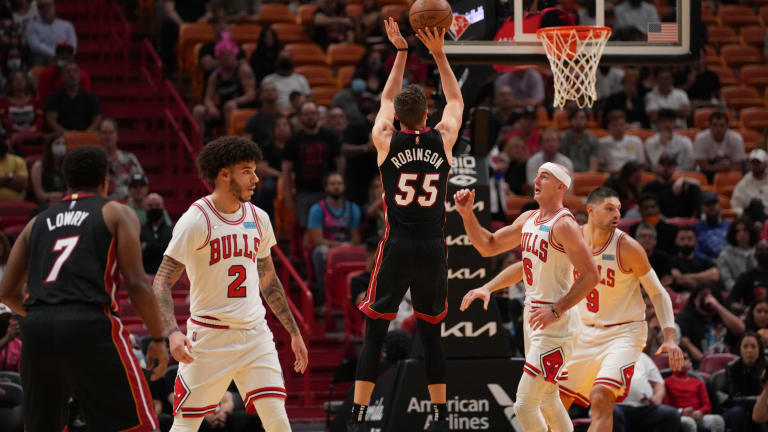 NBA Trade Rumors: Duncan Robinson Linked to Chicago Bulls
An Eastern Conference executive believes the Bulls could be interested in a trade for the Heat guard.
In a report by Thomas Darron of Heavy Sports, an Eastern Conference executive mentioned a couple of trade targets the Chicago Bulls could be interested in. One of those names is Miami Heat guard Duncan Robinson.
Robinson is playing the least amount of minutes per game since his rookie season. He is also averaging his lowest points per game total since his rookie season. It's no secret that the Bulls could use some three-point shooting, but at what cost?
I went to RealGM and entered the only trade I could see working with contracts. That deal would send Patrick Williams and Coby White to the Heat and see Duncan Robinson join the Bulls. Another workable trade would include Alex Caruso and Coby White. Now, I'm not Marc Eversley, but I don't think I'd make either of those trades. Opinions can vary, though.
The Chicago Bulls rank 28th in three-point shots attempted at 28.8 per game. Robinson averages 4.9 three-point attempts per game and is a career 40% shooter from three. With sufficient playing time, I could see Robinson becoming a key cog within the Bulls' offense off the bench.  Again, it just comes down to what the Bulls would be willing to give up and what the Miami Heat would want in a potential offer.
Sometimes a change of scenery is all a player needs. What do you think? Would you be into the Chicago Bulls trading for Duncan Robinson? Let us know over at Bulls On Tap on Twitter!
RELATED: Coby White is Available For Trade