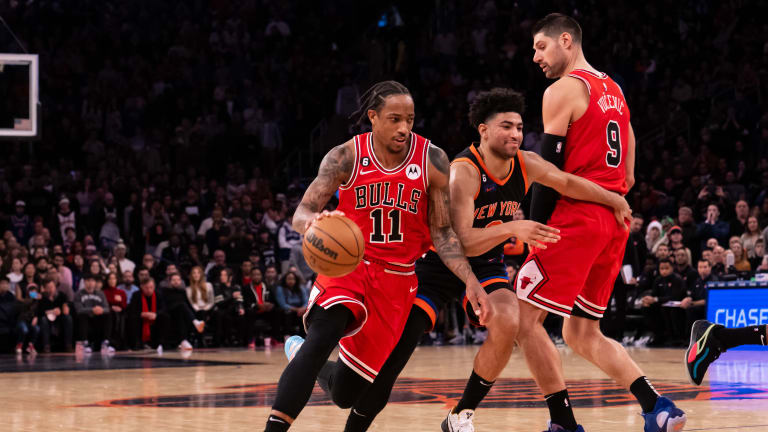 How The Bulls Finally Achieved Consistency
The Bulls have won three straight for the first time since the middle of last season. How have they done it?
Throughout the DeBallZach era of the Chicago Bulls, the team has been good enough to get by but never consistent. The Bulls bottomed out earlier this month dropping a heartbreaker to the Atlanta Hawks and losing back-to-back games at home to the New York Knicks. The team had a players-only meeting and now it seems they have figured it out.
With Friday's thrilling victory over the Knicks, the Bulls achieved their first three-game winning streak since February of last season. That run happened shortly after Lonzo Ball was sidelined for the season. So how have the Bulls turned it around?
The core without Lonzo Ball is finally meshing with some consistency. The last four contests have marked the first four-game stretch during which Zach LaVine, DeMar DeRozan, and Nikola Vucevic have each scored 20-plus points.
DeMar DeRozan typically exceeds 20 points per game unless he is being double-teamed when Vucevic or LaVine are struggling. Regardless of team struggles or successes, the veteran has been a model of consistency with a flair for the dramatic.
Nikola Vucevic struggled offensively early in the season but has now found his stride. He improved his shot selection from deep and his three-point percentage has increased to 37 percent, up from 31 percent last season. Vucevic has also gotten better at creating shots for his teammates.
During the Bulls' recent resurgence, Zach LaVine has also upped his game. He may have gotten a bit of a wake-up call after reportedly being the focus of halftime locker room discussion during the embarrassing loss in Minnesota on Dec. 18. LaVine has responded with better shot selection and not playing hero ball. He has scored 20-plus points on 50% shooting in each of Chicago's last four games.
If the Chicago Bulls continue getting this level of offensive production from their Big Three, they will be in every game. However, they still need to clean up the defensive end of the court if they aspire to be a legitimate threat in the East going forward.