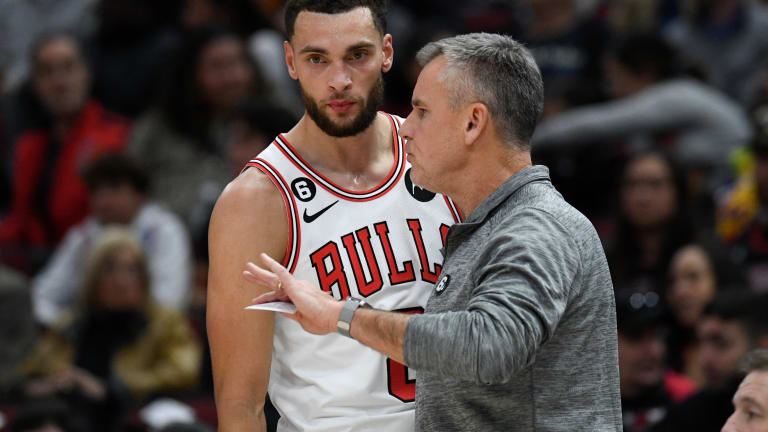 Zach LaVine, Billy Donovan Back on Same Page After Late Benching Drama
The star guard and his head coach are "all good" after some drama over the weekend.
Zach LaVine and Billy Donovan are "all good" following a bit of animosity over the weekend. This is coming from LaVine, who was irritated after being benched in the final minutes of the Chicago Bulls' loss to the Orlando Magic on Friday. LaVine shot 1-14 against Orlando, which resulted in Donovan sitting the star guard as the game went down to the wire.
LaVine was less than thrilled with Donovan's decision.
"You play a guy like me down the stretch. That's what I do. Do I like the decision? No," the two-time All-Star said.
That comment made the rounds, only adding another layer to the adversity currently surrounding the Bulls. With Friday's loss to the Magic, the Bulls dropped their fourth straight game, plummeting their record to 6-10. Having a rift between a star player and the head coach at this juncture is the type of thing that can sink a season.
But LaVine elaborated further on the situation and brought some peace of mind to Bulls fans. Though he disagreed with Donovan's decision, he said that he and his coach are "all good."
I also didn't agree with Billy Donovan's decision, but like Zach LaVine, I understand it. If LaVine doesn't have it going on offense, he has to be better on defense. If he struggles on both sides of the ball, he offers virtually nothing on the court.
The hope is that the Bulls can turn this situation into something positive. Everyone has off days at the office. How they respond to adversity will show what they're made of.
The Chicago Bulls have an opportunity to right the ship Monday when they host the Boston Celtics. It will be an uphill battle against the Eastern Conference leaders, but LaVine and co. can take a big step in the right direction if they're able to get back on track and snap this four-game skid.
RELATED: Billy Donovan Calls Out LaVine, DeRozan, Vucevic For Slow Starts