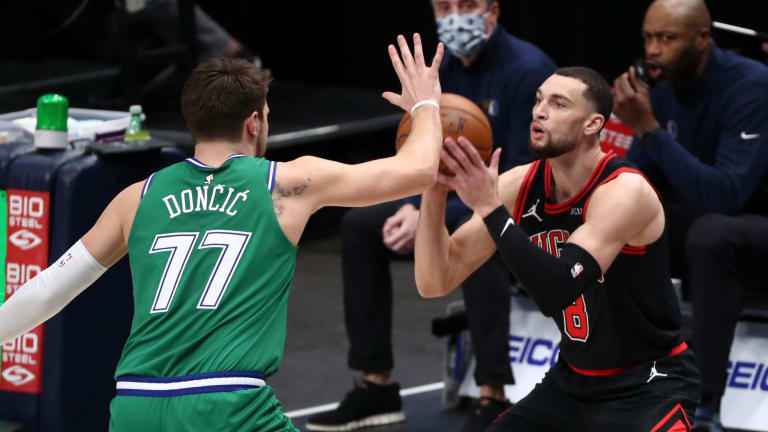 Bulls' Zach LaVine Linked to Mavericks in Latest Rumors
Per reports, LaVine is well-liked by the Mavericks' front office.
Given the Chicago Bulls' struggles to date this season, the organization may have to consider major roster changes in the near future. Multiple teams around the NBA are monitoring the situation and keeping tabs on Bulls' players. According to ESPN's Tim MacMahon, the Mavericks are one of the teams interested in Zach LaVine.
"I just know that there are fans of him that hold prominent positions within the Mavericks," MacMahon said on the Lowe Post Show. "Again, I'm not sitting here and telling you there's some great consensus. I think there's enough fans of him where I wouldn't totally rule it out."
With Nikola Vucevic's contract expiring at the end of the season, a LaVine trade could send the Bulls into a full-blown rebuild. Prior to this season, LaVine signed a max contract that runs through the 2025-26 campaign with a player option for 2026-27.
Pairing him with Luka Doncic would be deadly, and the Mavericks' backcourt would be set for the next few years. On the flip side, the Mavericks have plenty of draft capital in both the first and second rounds to offer the Bulls.
A couple of first-round picks could help the Chicago Bulls assemble a new, younger core that is hand-picked by Arturas Karnisovas and Marc Everley. Of course, that scenario would hinge on their willingness to move on from the current group.