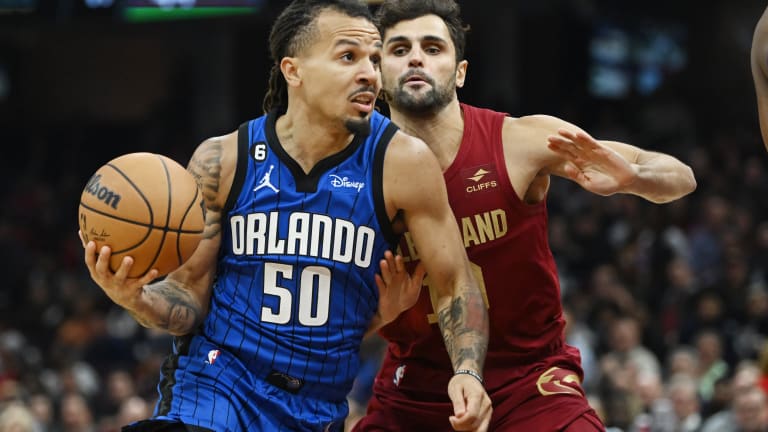 Cole Anthony Takes Shot at Bulls on Instagram
The Magic guard took to social media to sarcastically show his appreciation for the package the Bulls sent Orlando in exchange for Nikola Vucevic.
Cole Anthony didn't suit up for the Orlando Magic on Friday, but he still got a shot up against the Chicago Bulls.
Following the Magic's 108-107 victory, Anthony, who's been nursing an oblique injury since Oct. 26, posted this picture on Instagram:
Cole Anthony's jab, of course, is in regard to Wendell Carter Jr. and Franz Wagner — two of the players Orlando acquired as a result of the Bulls trading for Nikola Vucevic back in March of 2021 — combining for 41 points, 11 rebounds, 13 assists, and one steal in the Magic's first road victory of the season.
Meanwhile, Vucevic posted his ninth double-double of the season (14 points and 16 rebounds) but missed two free throws that would've given the Bulls a four-point lead with 12.2 seconds left to play. Instead, Jalen Suggs hit the game-winning three on the Magic's ensuing possession to send the Bulls home with their fourth straight loss.
To date, the Bulls (64-63) have one playoff appearance and nearly double the amount of regular-season wins as the Magic (33-93) since Arturas Karnisovas and Marc Eversley began to go all in.
But with the Bulls seemingly running low on resolutions for both their present and their future, the Magic — with a host of young talent, including Carter Jr., Wagner, Bol Bol, and rookie-of-the-year front-runner Paolo Banchero — appear headed toward the last laugh.
If the Orlando Magic, to whom the Chicago Bulls still owe another first-round pick, aren't there already.