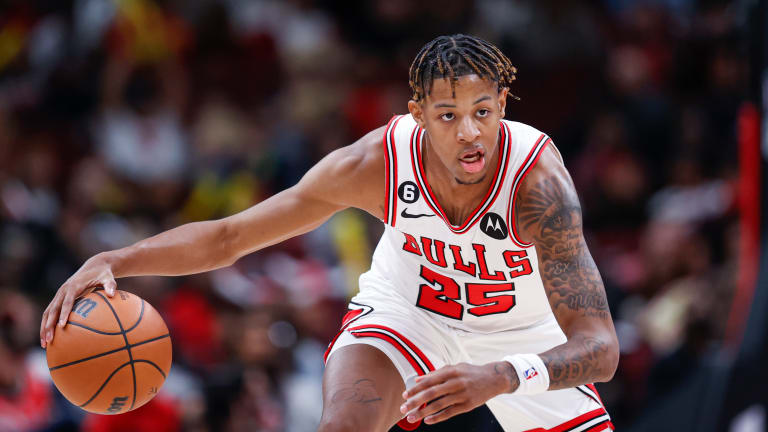 Dalen Terry Active for Bulls vs. Nuggets After G League Stint
The rookie got to play in two Windy City Bulls games this weekend during a break for the NBA squad.
Prior to Sunday's tilt against the Denver Nuggets, the Chicago Bulls have activated Dalen Terry. Terry was assigned to the Windy City Bulls to get some meaningful minutes this weekend while the Bulls had been off since Wednesday night's 111 -115 loss to the Pelicans.
Terry has only averaged 3.1 minutes per game at the NBA level, but he has shown promise in his limited action. His stint with the Windy City Bulls amplified what he could become as a full rotational player.
Terry appeared in two games for the G League squad. On Saturday, the 2022 first-round pick kept pace with fellow Bulls' fringe players Marko Simonovic and Malcolm Hill, both of whom scored 20 points. Terry finished with 18 points, nine assists, and eight rebounds in a loaded 33 minutes of play. He continued to show his ability to cut strongly to the hoop and finish in transition.
While Terry's stat line was satisfying, he did have five fouls and eight turnovers, highlighting why he needs minutes at the G League level. Low-leverage situations make such errors go unnoticed, especially given the small amount of playing time he has seen to date.
But Terry has fully embraced his current situation, saying he asked to be sent down "to go against somebody besides the imagination in my head." With a few adjustments to his decision-making, he should start to fit into the Chicago Bulls' rotation when the time is ready.
Sunday featured an Iowa Wolves vs. Windy City Bulls rematch, which saw Terry play 32 minutes. He finished with 14 points, four assists, and 10 rebounds on 50% shooting from the floor.
Despite making a smaller impact on the stat sheet, Terry was polished in his play with only two turnovers and two personal fouls. It seemed that he learned from his mistakes in a back-to-back situation, which is just what the Bulls want to see.
Even though Dalen Terry suited up for the Windy City Bulls on earlier in the day, he will be active for the NBA team's contest against the Denver Nuggets. He likely won't see the court, but his energy and personality on the bench will be a lift for the Bulls team trying to get back in the win column.