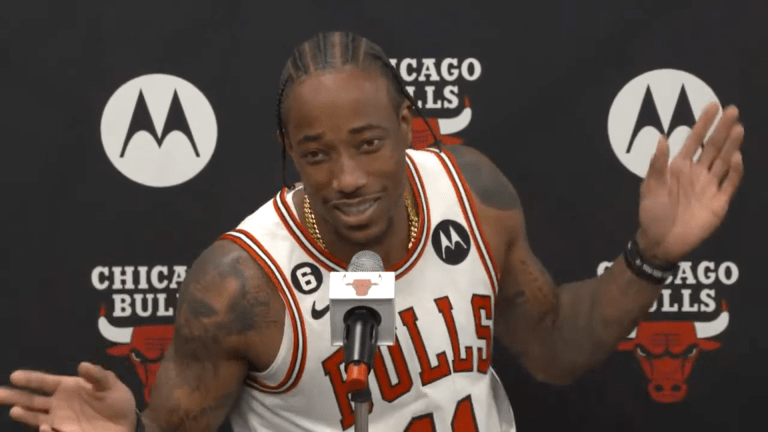 DeMar DeRozan Brings Lively, Determined Approach to Year 2 With Bulls
After a stellar first season in Chicago, DeRozan is eager to push the Bulls even further in 2022-23.
As the 2022-23 NBA season approaches, DeMar DeRozan is ready to get back on the court. At Chicago Bulls' media day, the 13-year veteran answered every question with sincerity. "I feel like I'm rambling. I missed y'all," he said to close out his session.
DeRozan shrugged off the critics who don't believe he will be able to replicate a stellar first season in Chicago. "Who comes up with these theories?" he said.
DeRozan had a career year in 2021-22. He posted career-highs in three-point shooting and points per game. But he isn't ready to slow down and he looks forward to facing stiff competition in the Eastern Conference.
DeRozan was also excited about entering the season with a healthy Zach LaVine. When both were healthy last year, the Bulls excelled in the scoring department.
"A healthy Zach (LaVine) makes our lives a lot easier," he said of his teammate's impact.
But LaVine wasn't the only teammate DeRozan spoke on. After working out with Patrick Williams during the offseason, he challenged reporters to get the scoop on how it went from the third-year forward.
"Have you asked him yet?" DeRozan said with a smile. The veteran was happy with the work Williams put in and said he's excited to see what he does in the upcoming season. 
Once again, DeMar DeRozan showed that he's a consummate professional. He said he has improved certain aspects of his game and is looking forward to the start of the new season with the Chicago Bulls.