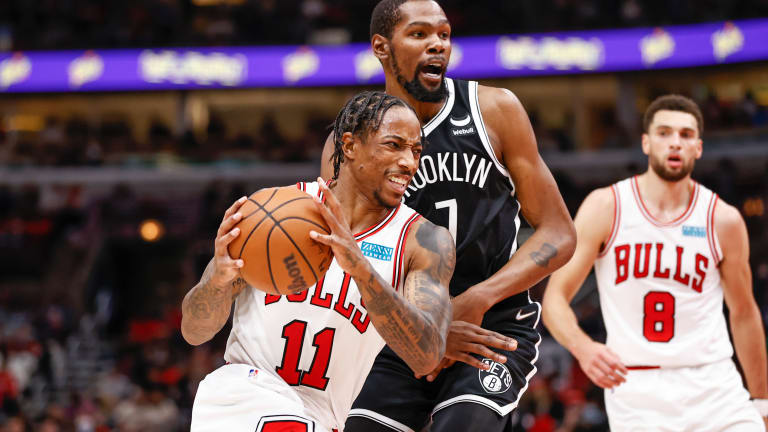 Bulls' DeMar DeRozan Ready to Attack 'Competitive Island' Eastern Conference
The veteran forward's fearlessness shined as he spoke about the state of the Eastern Conference entering the 2022-23 NBA season.
Much has been made about the gauntlet that figures to be the Eastern Conference during the upcoming 2022-23 NBA season.
Three of last season's top-four seeds — Boston, Milwaukee, and Philadelphia — don't appear to be any less formidable, though the Celtics have to prove they can march to the beat of a different drum. Meanwhile, Cleveland (Donovan Mitchell) and Atlanta (Dejounte Murray) both added an All-Star guard to their respective rotation and Kevin Durant buried his hatchet with Brooklyn.
But while many assume the Chicago Bulls will fold under the weight of the conference's improvement, DeMar DeRozan appeared to be sharpening his sword at Monday's media day.
Indeed DeRozan proved as much last season, averaging 28.7 points per game on 48.9% shooting against the Celtics, Bucks, Sixers, and Miami.
As a team, however, the Bulls didn't fare nearly as well, dropping 14 of the 15 games they played against the conference's elite. With that on their ledger and Lonzo Ball on the shelf, the Bulls were written off long before their 4-1 first-round playoff series loss to the Bucks.
Five months later, Ball is preparing for yet another trip under the knife, and the Bulls another first-round exit, at best. Or so goes the prognostications.
Insofar as the Chicago Bulls essentially stood still while, on paper, a handful of their foes took a collective step forward this offseason, it's hard to object.
No matter where the dust ends up settling, though, head coach Billy Donovan knows his team has an uphill climb in front of it.
"This year is going to be way harder than last year," Donovan said, "just cause the East is better and we got a lot more challenges in front of us.
"We got to put in the work."
DeMar DeRozan is certainly ready for the challenge.