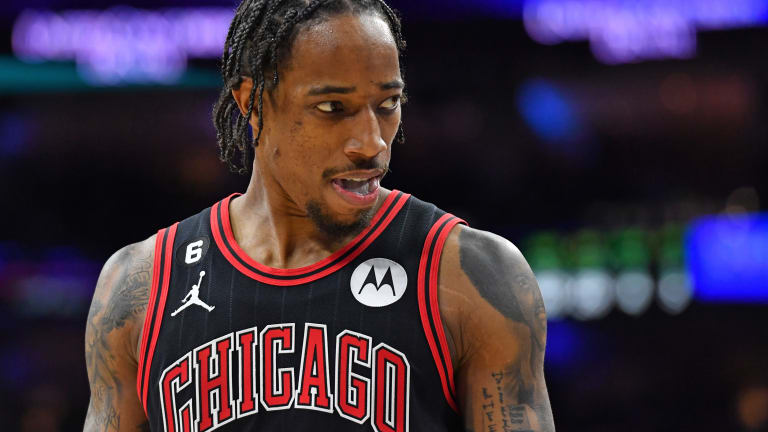 DeMar DeRozan Upgraded to "Questionable" Ahead of Bulls vs Warriors Sunday
DeRozan has missed two-straight games with a right quad strain
Life without DeMar DeRozan may soon come to an end for the Chicago Bulls.
DeRozan, who's missed the team's last two games with a strained right quad, has been upgraded to "questionable" ahead of Sunday's matinee against the Golden State Warriors (21-21).
The Bulls (19-24) made things interesting in an eight-point loss to Boston Monday despite DeRozan exiting midway through the third quarter with his injury. Since then, the Bulls have dropped contests to Washington and Oklahoma City in disappointing fashion.
DeMar DeRozan's absence has loomed particularly large in the last three fourth quarters, where his teammates have scored 19.5 points per 100 possessions less with him off the floor.
Zach LaVine (right hand contusion), who's scored 38 points and 25 points, respectively, in the last two games, is the other notable entry on the team's latest injury report.
He goes into the season-series finale with the Warriors carrying the same "probable" designation he wore ahead of Friday's tilt against the Thunder.
Needless to say, the Bulls having both their leading scorers on hand would seem a minimum requirement to beat the defending champion Warriors, to whom they've lost 11-straight games.