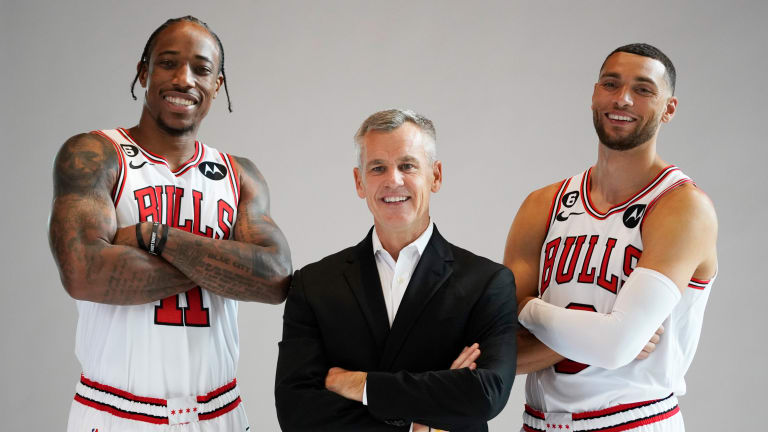 ESPN's Stats-Based Win Projections Have Chicago Bulls Finishing Under .500
ESPN's stats-based win projections for the 2022-23 NBA season have the Chicago Bulls finishing under .500.
Well, projections are just projections, right? ESPN has released its 2022-23 NBA season stats-based win projections. It doesn't look good if you're a Chicago Bulls fan. ESPN has the Bulls at 38.5 wins and placed 12th in the Eastern Conference. 
It's no secret the East has improved since last year. Not only just the Eastern Conference but the NBA Central Division as well. The Bulls are in for a tough season against stout competition. 
The article acknowledges how good the Bulls were last year when at one time they were 26-10 and on top of the Eastern Conference. A plethora of injuries then derailed the team in the second half. 
Still, after everything the team went through, they finished sixth in the standings. However, they were bounced out of the playoffs by the Milwaukee Bucks in the first round. The article also points out how the Bulls were worse with point guard Lonzo Ball off the floor. 
It's hard to say how the Bulls will stack up with the rest of the East when fully healthy. It would not be surprising to see the team use this as their motivation to prove the doubters wrong. One of their star players, DeMar DeRozan, often uses that as fuel to perform to the highest of levels. 
This is just another doubt that the Bulls have to deal with. The Bulls' front office likes what they see in the talent they have accumulated. The talk of "continuity" has echoed throughout the halls of the Advocate Center and the United Center since last season ended. 
If the Bulls can play up to the standards they hold themselves to and stay healthy, there is no reason they cannot be a top-six team in the Eastern Conference. Only time will tell.