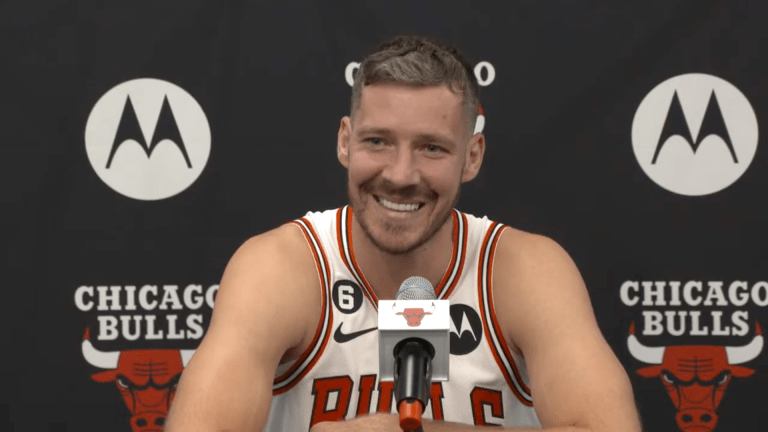 Goran Dragic Ready to Win With the Bulls
The veteran point guard said he's willing to "do whatever" for the Bulls amidst his excitement about joining the team.
Goran Dragic was one of the Chicago Bulls' key signings this offseason. Monday's media day was the first chance to see him in his new threads. 
The Bulls have had Dragic on their radar for a long time. Dragic said Chicago showed interest before he signed with the Nets during last season. His relationship with Arturas Karnisovas was one of the factors that helped get him to Chicago.
Dragic added that he was impressed with head coach Billy Donovan, who flew out to Slovenia to visit and talk with him. Such stories show how the Bulls are continuing to gain trust in the international basketball community.
In the grand scheme of things, Dragic joined the Bulls to win. He indicated that seeing the way they played last year made him want to come to Chicago.
One of the concerns regarding Dragic was his decision to suit up for Slovenia in EuroBasket. He was recovering from a knee issue last season, and the last thing the Bulls need is another injury at the point guard position.
But Dragic said he couldn't bear the thought of what it would be like to walk on the streets in his home country if he hadn't. It turned out fine in the end as he said he feels fine physically.
Derrick Rose Dunk On Dragic
With the last question of the media session, longtime Bulls' writer Sam Smith asked Dragic about the infamous Derrick Rose posterizing dunk.
Dragic started grinning.
"This is the only dunk somebody dunked on me in my career. I was with Derrick in Zagreb when we had an Adidas campaign and I said 'You had to do it like that?' I was young...so I had to go for that play...at least I'm on TV all the time," Dragic recalled with a chuckle.
Now a member of the Chicago Bulls, Goran Dragic will look to make new, more pleasant memories associated with the black and red. And with Lonzo Ball on the shelf without a return timeline, Dragic will have plenty of opportunities to do so early on this season.