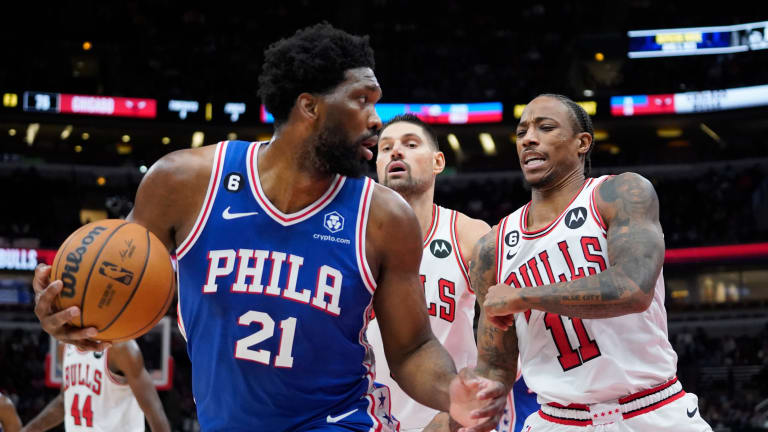 Bulls Catch A Break With Sixers' Joel Embiid Ruled Out Friday
A major obstacle is out of the way as the Bulls look to snap a 12-game head-to-head losing streak against the Sixers.
It may only be early January, but every game is crucial for a Chicago Bulls squad that has underperformed to this point in the season. They'll have an excellent opportunity to gain some momentum in the Eastern Conference race Friday when they face the Philadelphia 76ers, who will be without Joel Embiid.
The five-time All-Star will miss his second consecutive game due to left foot soreness. Embiid, a notorious Bulls killer, has gone 12-0 against Chicago in his career. He is averaging a robust stat line of 29.1 PPG, 11.3 RPG, 4.0 APG, and 2.6 BPG in those contests.
With Joel Embiid out, the Bulls will look to snap a 12-game head-to-head losing streak against Philadelphia. Chicago's last win over the Sixers came on March 6, 2019 — a game that the 7-foot center also did not suit up for.
Don't chalk it up as a win for the Chicago Bulls just yet, though. Of the Sixers' 12 straight wins against the Bulls, three of them have come without Embiid.
Programming Reminder
Friday's contest was initially scheduled to be a nationally televised game on ESPN. But that won't be the case as the network recently pulled the plug on Bulls vs. Sixers in favor of Nets vs. Pelicans.
Chicago and Philadelphia will now tip off at 6 PM CT from Wells Fargo Center and the game will air locally on NBC Sports Chicago.