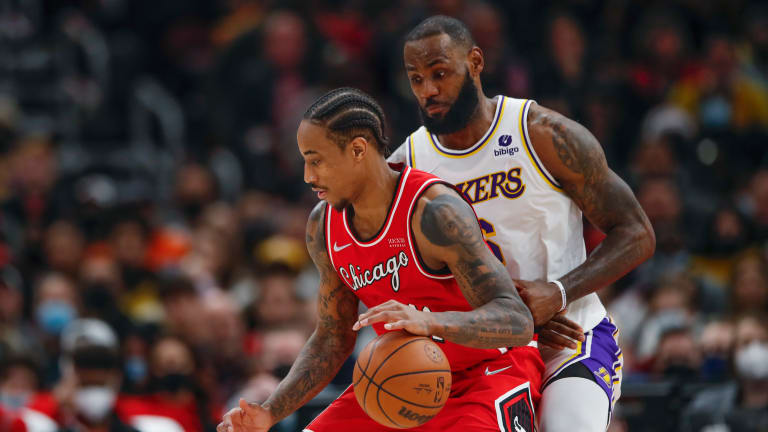 Oh, Look! A LeBron James To The Chicago Bulls Trade Rumor!
The hypothetical swap would see LeBron head to Chicago in exchange for a trio of players.
So, I was scrolling across Facebook (I know I'm old) and I saw LeBron James in a Chicago Bulls uniform. Of course, I was curious, so I decided to click on the post and read what it said. David Aldridge of The Athletic shared a hypothetical trade idea that would see James in a Bulls uniform and DeMar DeRozan in a Los Angles Lakers uniform.
James cannot be traded until next season, which will also be the final year of DeRozan's current deal with the Bulls. Why would the Bulls risk moving DeRozan's expiring contract for a guy who will turn 39 midway through the campaign? To make the whole trade work, Aldridge mentioned that Alex Caruso and Patrick Williams would have to be involved.
I could get into all the specifics of this, but I'm not going to. Listen, LeBron is still one of the best players in the world. There is no debating it, no matter how much you may dislike the guy.
Make It Make Sense (You Can't)
Still, this is just a ludicrous proposal. The only way this could even have a chance of happening is if James forced his way out of L.A. Rumors indicate he may be unhappy there, but why would Chicago be a good fit? Given the Bulls' struggles this season, they don't appear to be a desired destination for a player chasing another ring at the tail end of his career.
Furthermore, why would the Bulls engage in such a trade? Getting two to three years of LeBron James with their current core, which would be depleted due to the haul they would have to send the Lakers, isn't exactly a sound strategy.
I decided to tweet out what I scrolled across on Facebook to gauge Bulls Nation's reactions. Many fans aren't into the idea of James coming to Chicago. Those reactions could be due to past grudges or simply because facilitating a deal for LeBron would put the Bulls in basketball hell.
Of course, the caption in the screenshot above is slightly exaggerated. Die-Hard Chicago Bulls Fans' post was moreso meant to drive the conversation. Would you want LeBron James here in Chicago? Does it even make sense? I don't think it does, but everyone is entitled to their own opinions.
BEWARE OF THE CLICKBAIT.