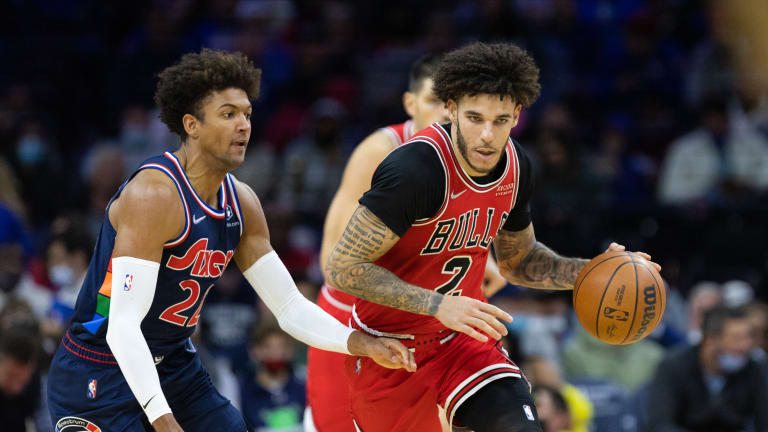 Bulls Finally Give Official Lonzo Ball Update and It's Bad News
The Bulls' point guard will go under the knife again in hopes of alleviating lingering knee pain.
The Lonzo Ball saga finally received some official clarity on Wednesday. After an offseason littered with reports on the point guard's status, the Chicago Bulls provided an update. Ball will undergo an arthroscopic debridement of his left knee on Sept. 28 in Los Angeles.
What is an Arthroscopic Debridement?
According to Mercy Health, it is "a surgical procedure that removes the broken down bits of cartilage and tissues to help reduce pain and improve movement."
Essentially, Ball will get his knee cleaned up in hopes of alleviating the lingering pain he has dealt with during his rehab from meniscus surgery. The team will re-evaluate him in 4-6 weeks.
The Story Continues
This is just the latest chapter in the Chicago Bulls' offseason horror story that has been Lonzo Ball's status.
After Ball initially went under the knife in late January, the Bulls listed his return timeline at 6-8 weeks. He never returned, even into the playoffs.
Early in the offseason, the Bulls reportedly had concerns about Ball's knee. Ball's father, LaVar, refuted the reports, though most knew to take his word with a grain of salt.
As the summer progressed, K.C. Johnson of NBC Sports Chicago reported he had heard "more positive than negative" regarding Ball's status.
That hope quickly faded as Jamal Collier and Ramona Shelburne of ESPN noted Ball was expected to miss training camp and was doubtful to start the season with the Bulls.
The Bulls were then in the process of evaluating their dynamic point guard. Now, the results are in and they are not encouraging.
The Chicago Bulls' 2022-23 season tips off in exactly four weeks. And given today's injury update, that is the earliest the Bulls could potentially have another update on Lonzo Ball.