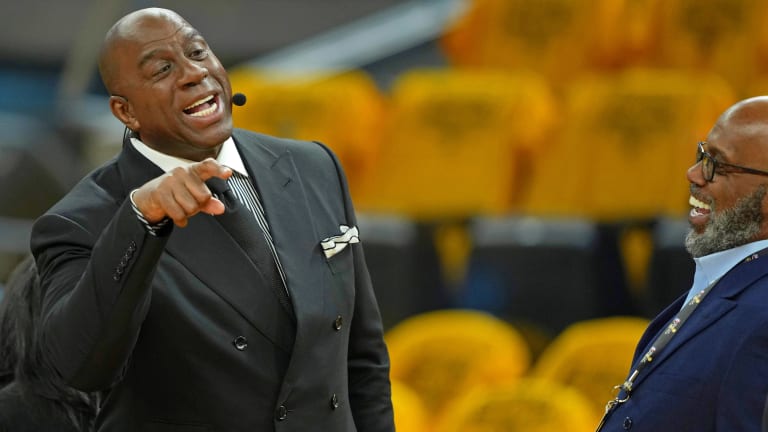 Magic Johnson Will Work to Bridge Long-Standing Gap Between Michael Jordan and Isiah Thomas
The former Los Angeles Lakers great and NBA Hall of Famer believes the beef between Jordan and Thomas should stay in the past.
Magic Johnson thinks Michael Jordan and Isiah Thomas should bury the hatchet.
On the latest episode of the "All The Smoke" podcast, the Los Angeles Lakers great said he doesn't like the now decades-long back-and-forth between the former Central Division foes and fellow NBA Hall of Famers.
"I think they should be done with that," Johnson told hosts Matt Barnes and Stephen Jackson. "Listen we played when we played. We all had to dislike each other to win a championship. We all had to do what we had to do."
For Thomas, that meant joining his Detroit teammates as they walked off the floor before the buzzer sounded on Chicago's Eastern Conference Finals series-clinching win in 1991.
For Jordan, that meant telling then-Olympic Committee Chairman Rod Thorn he wouldn't be a part of the Dream Team if Thomas was also rostered.
"I tried to do everything correctly, and I thought I should have made that 'Dream Team,'" Thomas said on ESPN after the network premiered episodes three and four of the documentary series The Last Dance in 2020.
"However, I wasn't a part of it. That hurt me, and looking back, if I'm not a part of the 'Dream Team' because of a lapse in emotion in terms of not shaking someone's hand, if that's the reason why I didn't make the 'Dream Team,' then I am more disappointed today than I was back then when I wasn't selected."
That old wound was given new life when Thomas was asked about how he was portrayed in Emmy-Winner The Last Dance at the Abu Dhabi Games in November.
"When I was watching 'The Last Dance,' I'm sitting there, and I'm watching it with my family, and I'm thinking everything is good," Thomas told Eurohoops. "And then this guy comes on television, and he says that he hates me, and then he calls me an a—hole. And then I proceed to watch a whole documentary about him being an a—hole.
"I'm like, 'Wait a minute, time out.' Until I get a public apology, this beef is gonna go on for a long, long time, because I'm from the west side of Chicago."
Jordan, meanwhile, appears unbothered.
His comments from The Last Dance are the last he's offered on the subject. Plus, Jordan doesn't just hold grudges; he sticks to them like glue. (He hasn't spoken to Charles Barkley, with whom he used to be friends, in nearly a decade because of Barkley's past criticisms of him as owner of the Charlotte Hornets.)
Still, Johnson, who's close to both Jordan and Thomas, has vowed to try to bridge the gap between the two legends.
"I'm definitely going to try because they should be past it. They're my boys, so I guess I'm gonna have to be the one to bring 'em together."