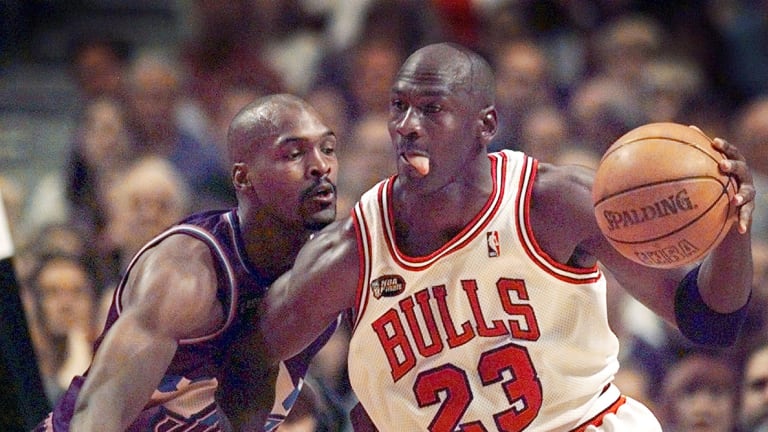 Michael Jordan's Jersey From '98 NBA Finals Goes For Record $10.1 million At Auction
Jordan's "Last Dance" jersey surpasses the $9.28 million paid in May for late soccer legend Diego Maradona's "Hand of God" jersey from the 1986 World Cup.
Michael Jordan is still breaking records — 24 years after calling it a career.
His Airness's game-worn jersey from the series-opener of the 1998 NBA Finals recently sold for $10.091 million with auction house Sotheby's. That's the most money to have ever been spent on a sports memorabilia item to date.
Late soccer legend Diego Maradona's "Hand of God" jersey from the 1986 World Cup, which sold for $9.28 million in May, was the previous record-holder.
"In the weeks since we announced the auction, there's been palpable excitement from not only sports fans, but collectors alike who are eager to own a rarified piece of history," Brahm Wachter, Sotheby's head of streetwear and modern collectables, said in a statement following the sale.
"[The] record-breaking result, with an astounding 20 bids, solidifies Michael Jordan as the undisputed GOAT, proving his name and incomparable legacy is just as relevant as it was nearly 25 years ago."
Jordan's memorabilia is constantly going for big money at auction. Earlier this year, one of his cards, which is the only one of its kind, with a piece of his 1998 Finals Game 6 jersey was thought to possibly go for over $1 million at auction.
Indeed. Jordan, whose Chicago Bulls went on to win a sixth title in their "Last Dance" together, never lost a championship series and owns the most Finals MVP awards in league history.
Few will quibble about Jordan being the greatest basketball player to have ever lived. But someone paying eight figures for one of his jerseys makes any argument to the contrary sound cheap.