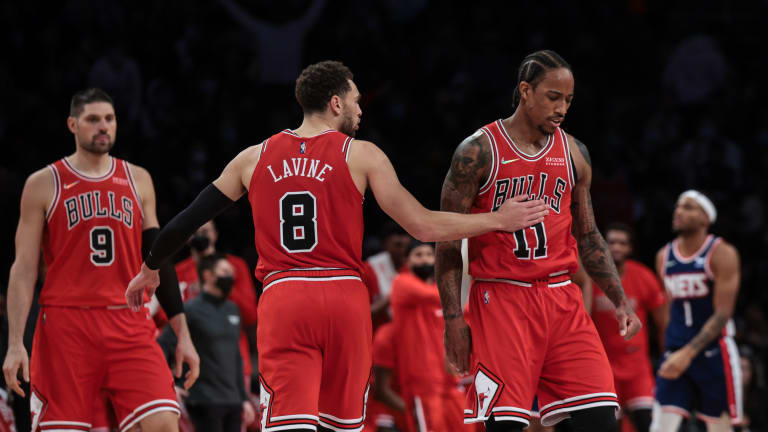 Bulls' DeRozan, LaVine Named Nominees For Eastern Conference Player Of The Week
DeRozan and LaVine were clicking on all cylinders last week.
A little good news will never hurt anyone. If you're a Chicago Bulls fan, here's some cool news. DeMar DeRozan and Zach LaVine were named finalists for the Eastern Conference player of the week. Pascal Siakam of the Toronto Raptors ended up winning the honors.
'The Bulls are in the midst of a three-game winning streak, which is their longest of the 2022-23 season. This upswing comes after a four-game skid, and the last loss was an embarrassing beatdown from the Minnesota Timberwolves.
Afterward, Bulls held a players-only meeting where it was reported that Zach LaVine took the brunt of the team's frustration. Since then, the Bulls have not lost, and their Big Three of DeRozan, LaVine, and Nikola Vucevic are performing at a high level.
In three games last week, DeMar DeRozan averaged 25.7 PPG, 6.7 APG, and 6 RPG. He shot 51% from the field and 84% from the free throw line. DeRozan also hit a clutch game-winner against the New York Knicks in the last game of the Bulls' road trip.
Though DeRozan hit a game-winner and was consistent as they come, he did not do it alone. Zach LaVine had a hell of a week after being called out by his teammates. He averaged 25.3 PPG, 5 RPG, and 5 APG while shooting 52.9% from the field and 42% from downtown in three games last week. This looks like the version of LaVine that Bulls fans are accustomed to seeing.
It's awesome that they were both considered for the Eastern Conference Player of the Week, but let's hope this success continues to carry on as the Chicago Bulls try to turn their season around.