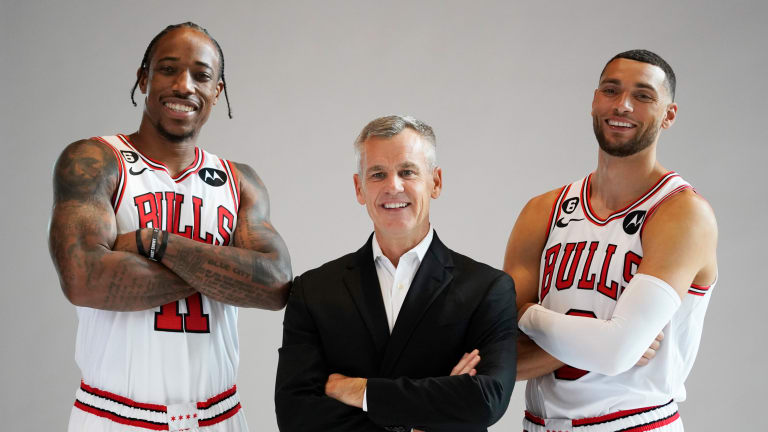 Zach Lowe Doesn't Have Much Faith in the Chicago Bulls
Will the Bulls be a sure-fire playoff team? Or will they find themselves struggling to make it? Here's what ESPN's Zach Lowe has to say.
ESPN writer Zach Lowe has released his annual NBA tier ranking system ahead of the 2022-23 season. He likes to call it an alternative to the NBA power rankings. Unfortunately for Chicago Bulls' fans, Lowe believes they will struggle due to the absence of Lonzo Ball. 
Without giving away too much of Lowe's article, he has the Bulls fighting for a play-in spot. Among the team's issues, he points out that Zach LaVine, DeMar DeRozan, and Nikola Vucevic are outscored when they're on the floor at the same time.
Lowe also notes the importance of the "maximum defense" that Chicago needs to surround its star trio. Based on the end of last season, he certainly isn't wrong. As the Bulls themselves have identified, Lowe adds that Ayo Dosunmu and Patrick Williams must make major strides in 2022-23.
Finally, Lowe has concerns about LaVine coming off knee surgery and DeRozan's ability to duplicate his magical 2021-22 season. Overall, his doubts about the Bulls all hold weight.
The NBA Eastern Conference improved significantly during the offseason. While foes added major pieces, the Chicago Bulls decided to run back nearly the same roster they had last season. Sure, a few new faces have entered the mix, but ultimately, the core is the same.
If the Bulls can remain healthy, they have a shot to make some noise. Only time will tell the true story of the 2022-23 season. But in the eyes of most national media, the Bulls are a play-in team or on the outside looking in.