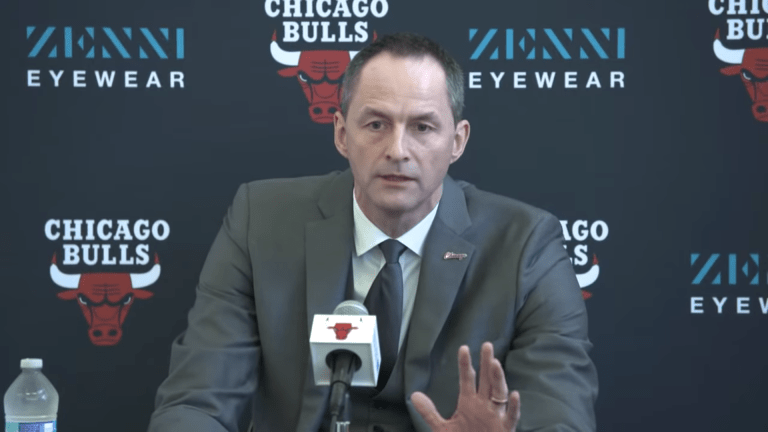 Bulls' Arturas Karnisovas Must Back Words With Action at NBA Trade Deadline
The usually quiet Karnisovas finally spoke up, but it will only be lip service if he doesn't improve the Bulls roster in the coming weeks.
Arturas Karnisovas is a quiet guy. Chicago Bulls fans typically don't hear much from him, but he finally piped up when he joined NBC Sports Chicago's K.C. Johnson for an episode of the Bulls Talk podcast. Among the topics discussed, Karnisovas spoke on the state of the Bulls and their shortcomings so far in the 2022-23 NBA season.
The Bulls currently hold a 20-24 record and 10th place in the Eastern Conference. That's a stark contrast to this time last year when Chicago sat atop the East after an explosive start to the season. And that drop-off isn't lost on the Bulls' Executive VP of Basketball Operations.
"I'm a very competitive person. That's what you need to know. I don't take losses lightly," Karnisovas said. "I get emotional just like you. We're trying to turn this around."
If Karnisovas truly wants to help the Bulls right the ship, he must make a move or pick a lane.
Leading into the campaign, the front office preached "continuity" at every turn. Karnisovas and co. wanted to keep the same group together to give it a go. Did it make a bit of sense at the time? Sure. The Bulls were a top-10 team in offensive and defensive efficiency before Lonzo Ball went down with a knee injury.
The problem is, Ball never recovered and still hasn't returned. Hell, the dynamic point guard himself acknowledged that time is running out for a potential return this season. Karnisovas didn't make the proper offseason moves to effectively soften the blow of Ball's absence, and the Bulls have been feeling it through the first half of the campaign.
So, what will it take for the Chicago Bulls truly turn things around? It's time for Arturas Karnisovas to support his words with action at the NBA trade deadline.
He isn't afraid to take a big swing, as evidenced by the trade for Nikola Vucevic at the 2020 deadline. If Karnisovas truly wants to retool and have this year's team compete, he must act shrewdly before Feb. 9 to acquire the missing pieces. Otherwise, the Bulls will be at risk of another quick playoff exit, or worse, missing the postseason altogether.