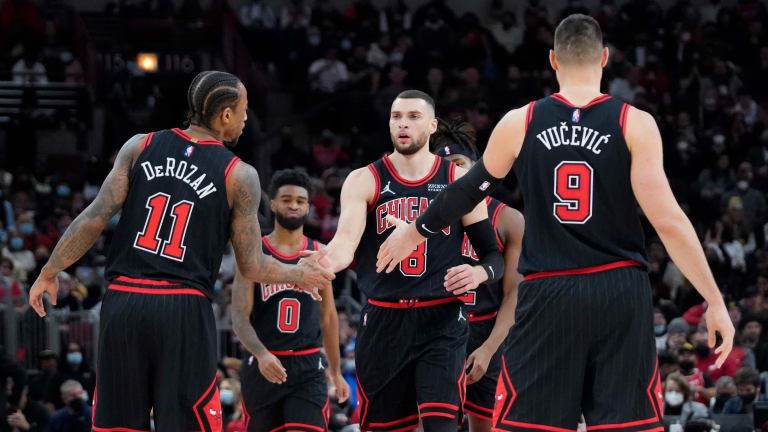 PointsBet Projects Bulls to Finish With East's Eighth-Best Record
According to the online sportsbook's latest win-total odds, the Bulls are destined for the play-in tournament along with the Hawks, Wizards, and Hornets.
With just more than two weeks left before the 2022-23 NBA season tips off, the latest odds for each team's regular-season win total have been released.
And in keeping with the drumbeat of Kendrick Perkins and the 14-year vet's current employer, ESPN, PointsBet isn't high on the Chicago Bulls.
The online sportsbook has the Bulls winning 42.5 games this upcoming season. That's a mark that, when measured against how the rest of the Eastern Conference is predicted to finish, would rope them into the play-in tournament as the eighth seed.
Last season, the Bulls secured the sixth-most victories (46) in the conference and their first playoff berth since 2017. But between the steps their foes have taken this offseason and the ones Lonzo Ball hasn't in his return to the court, expectations for a similarly successful campaign have taken a hit. At least externally.
Boston (54.5), Milwaukee (52.5) and Philadelphia (51.5) are three of the seven teams — the Los Angeles Clippers (I 52.5), Golden State (52.5), Phoenix (52.5), and Denver (51.5) are the others — projected to win more than 50 games.
The Bulls, who host New Orleans in the first game of their four-game preseason slate tonight, open the regular season at Miami on Oct. 19.