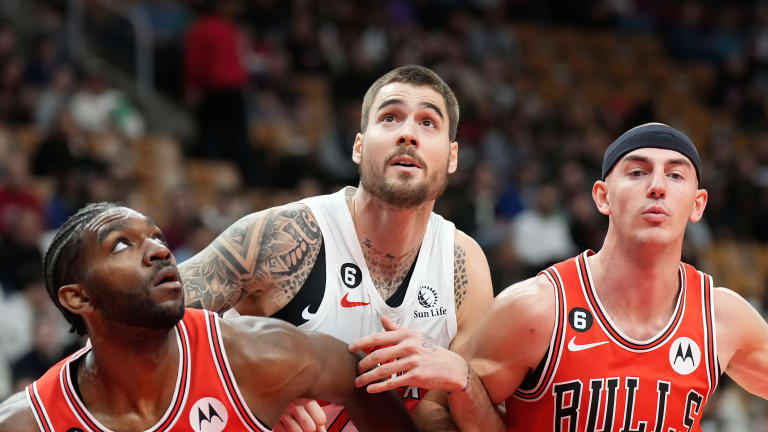 Rumor: Chicago Bulls' Alex Caruso and Patrick Williams Not Available For Trade
According to Michael Scotto from HoopsHype, the Chicago Bulls have not made Patrick Williams or Alex Caruso available for trade.
This report should make you happy if you're a fan of Alex Caruso or Patrick Williams. Michael Scotto of HoopsHype recently said the Chicago Bulls have not put Caruso or Williams on the trade block. 
When Scotto talked to a league executive, the executive said he believed the Bulls had held onto Williams for too long. That they have "devalued" him. I mean, it makes sense. There was a lot of hype surrounding the 21-year-old out of Florida State. The Bulls saw a defensive player that showed flashes of becoming a two-way player. That hasn't happened. 
Williams hasn't improved since he entered the league. His numbers are pretty much the same outside of free-throw percentage. However, he is statically the team's best three-point shooter. He shoots 41% on 3.5 attempts currently. The former fourth overall pick is averaging 9.8 PPG (career-high), 4.1 RPG, and 1.3 APG. He is shooting 45% from the field. 
There is no telling at this point if he is going to make the leap that Arturas Karnisovas or Marc Eversley thinks he can. It was rumored last season that the Bulls inquired about then-Detroit Piston Jermai Grant. Though, the Pistons wanted Williams in any trade scenario and the Bulls were unwilling to add him to a package. Grant was then moved to the Portland Trailblazers where he is once again having a very effective season. 
While Scotto was talking to the league executive, the executive said Caruso could get back a solid return. This one would sting me a little, I'm just being honest. I am a huge Alex Caruso fan. He just embodies Chicago basketball. The guy puts his body on the line and plays hellacious defense. He would be an asset to any contender that could acquire him. 
Sure, the numbers aren't sexy, but the dude comes up big in massive moments. Caruso on the season is averaging 5.3 PPG, 3.4 APG, 2.7 RPG, and 1.5 SPG. He usually closes games out and is tasked to guard the opposing teams best wing. 
I don't know what the right route is to go. I'm on record on the Bulls On Tap podcast that I would blow this team up because I cannot really see them battling for a championship. This team is currently 19-23 and sitting in 10th place in the Eastern Conference. 
If the trade return isn't beneficial, I get it. But the fact they aren't on the block at all when this team needs an obvious shake is just maddening. The NBA Trade Deadline is Thursday, February 9. The Bulls have 12 games left until it arrives. Maybe things will change from now until then. Though, I won't hold my breath.