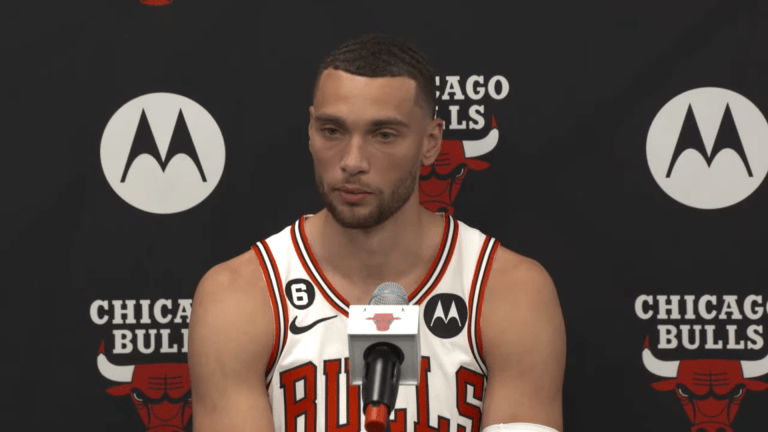 Zach LaVine Sets Championship Expectations for Bulls Season
"If we're not competing for a championship, we're selling ourselves short," the All-Star guard said.
The Chicago Bulls made a huge franchise decision this offseason. Arturas Karnisovas and co. handed out a five-year, $215 million contract extension to Zach LaVine, making him the cornerstone of the franchise.
LaVine met with the media Monday and vocalized his expectations for the upcoming season.
"We're a team that held a top record in the East all the way until after the All-Star break, got a playoff berth and got our feet wet. If we're not competing for a championship, we're selling ourselves short."
The championship contention talk should be music to Chicagoans' ears.
A big part of getting there will be staying healthy. LaVine had knee surgery himself this offseason but said he feels "really good."
While that's an encouraging development, LaVine's health isn't the biggest concern going into the year. Instead, the focus has shifted to Lonzo Ball, who will miss the beginning of the season with a lingering knee issue of his own.
"He wants to be out here more than anybody else," LaVine said of Ball. No. 8 knows how important his teammate is. LaVine added that he told ball Ball, "make sure you are ready when you are cause when you come back we need you. You are our starting point guard."
LaVine shouldered much of the load last year, which head coach Billy Donovan even elaborated on. With Ball on the floor, LaVine doesn't need to facilitate the offense as much. But he'll have to wait for that luxury as Ball's return timeline still remains unclear.
Regardless, Zach LaVine appears confident and more ready than ever to compete for a championship with the Chicago Bulls. It's a lofty goal in a stacked Eastern Conference, but the two-time All-Star isn't shying away from the challenge.
"If they're (expectations) not high, what are we doing here?"