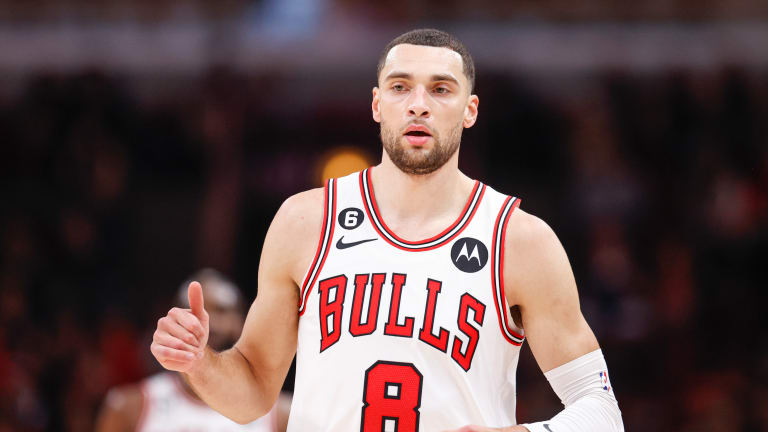 Zach LaVine on Bulls' Loss to Lowly Rockets: 'Took a Team For Granted'
When asked about the loss to Houston, LaVine's comments weren't exactly encouraging.
Who's the leader of the Chicago Bulls? Is it the guy who hits game-winners and has revitalized his career in Chicago? If you are unsure of who that is, it's DeMar DeRozan. Or is it the $215-million man, Zach LaVine? At this point, who cares? The Bulls are 14-19 and 11th in the Eastern Conference. They also just took a beatdown from the Houston Rockets, owners of the worst record in the Western Conference.
When asked about the loss to Houston, LaVine's comments weren't exactly encouraging. "We came out a little bit lackadaisical. Took a team for granted and you cannot do that in the NBA," the star guard said.
Really, Zach? You cannot do that in the NBA?!? Thanks for letting us know! The team he took for granted, the West's basement-dwelling Rockets, shot 55% from the field, 38% from downtown, and dropped 133 points on their heads. Sure, the Bulls fought back and took a one-point lead at halftime. They then proceeded to play the same way they opened the game and were blown out from there.
LaVine is supposed to be the leader of the team. His underachieving squad isn't even good enough for the damn play-in tournament at this point. And he's taking teams for granted?
Listen, this isn't all on Zach LaVine's shoulders. However, when you're the highest-paid player, scrutiny will undoubtedly come your way if the team isn't performing. I'd also like to point out that other players are scrutinized as much or more than LaVine is.
It's almost like the Chicago Bulls think there is some sort of switch they can flip to turn it back on. News flash — there isn't. So, when a fan base sees comments like this, it fires them up, and rightfully so.
The NBA trade deadline is on Thursday, Feb. 9. Zach LaVine and the Bulls better hope they can find that magic switch because change should be coming if they don't.