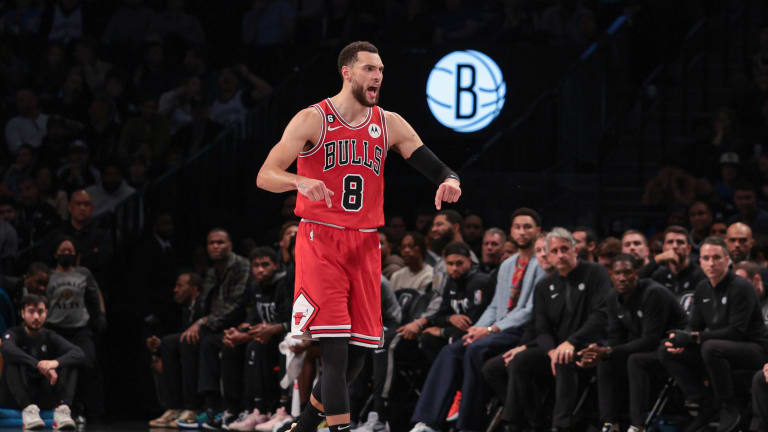 Zach LaVine Propels Fourth-Quarter Surge to Help Bulls Sink Nets
The two-time All-Star guard outscored Brooklyn in the final period to help the Bulls snap a two-game losing streak.
Zach LaVine scored 20 of his team-high 29 points in the fourth quarter and the Chicago Bulls used a 17-4 run to tuck the Nets away in Brooklyn on Tuesday.
With the 108-99 victory, the Bulls (4-4) snapped a two-game losing streak. LaVine, meanwhile, silenced those who criticized his late-game decision-making in a loss to Philadelphia on Saturday.
For one night, at least.
Here's what stood out.
"That's What I Do" - Zach LaVine
Through three quarters, DeMar DeRozan (20), Goran Dragic (15), Ayo Dosunmu (13), and Patrick Williams (12) had all outscored LaVine, who was 4-of-11 from the field to that point.
But the two-time All-Star opened the final period with a step-back jumper and a pair of free throws to give the Bulls their first lead, 81-80, since the first quarter. LaVine then scored eight straight points to extend the lead to 99-90. His fourth and final three of the quarter gave the Bulls their largest advantage of the game, 106-94, and effectively put the Nets away for good.
All told, Zach LaVine made six of the 10 shots he took in the final frame and scored one more point than the entire Nets team. On a night that saw DeRozan (8-for-21) and Nikola Vucecic (3-for-8) struggle offensively, LaVine's heroics were right on time.
Things Are Looking Up
Patrick Williams, who came into Tuesday's contest averaging 7.1 points and two rebounds, had four points and a steal to his game by the time the Nets burned their first timeout at the 7:02 mark of the first quarter.
By halftime, Williams added four more points, three rebounds, and a season-high two blocked shots to his ledger. The third-year forward finished with 12 points and seven rebounds, both of which are also season-high outputs.
No, he wasn't perfect — he missed all three of his attempts from long range, didn't recognize a mismatch he drew after screening and rolling for Goran Dragic, and couldn't secure a couple of passes from his teammates. But Williams, who has now scored in double figures in three out of the last four games, looks to be settling into the season.
No Worse For Wear
Ayo Dosunmu made a living at the rim in his first game back from the thoracic contusion he suffered Friday.
Dosunmu was 4-for-4 in the restricted area and 2-for-3 in the lane against the hollowed Nets' defense. He scored a dozen points in the lane altogether and finished with 17 points, four assists, three rebounds, and three steals, and was a team-best +12 in 33 minutes.
His three missed triples and two turnovers — both of which came by way of traveling violations — were the only blips on the radar. Especially considering how the starting point guard, Kyrie Irving (four points on 2-of-12 shooting and a plus-minus -14), across from him fared.
What's On Tap Next?
The Chicago Bulls host the Charlotte Hornets (3-4) Wednesday to tie a bow on their third back-to-back set of the season. They'll look to match their longest win streak of the season but will likely have to do so without Zach LaVine, who continues to manage his left knee.
Tip-off is at 7:00 PM CT and the game will air on NBC Sports Chicago.
Tune in to the Bulls On Tap podcast for postgame reaction and further Bulls commentary all season.