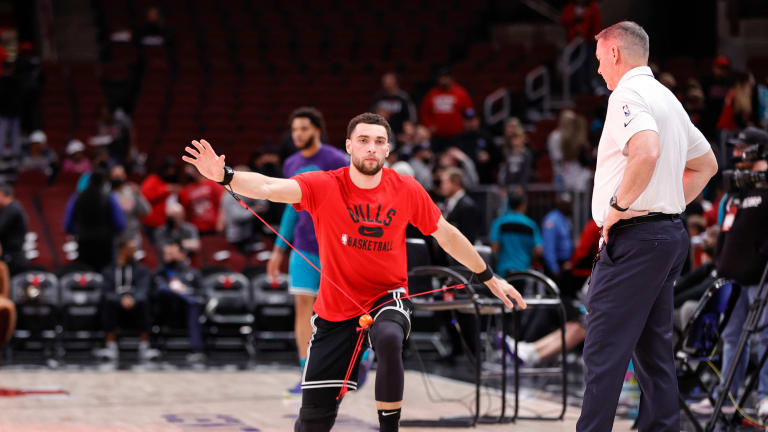 How The Bulls Can Treat Zach LaVine's Injury Different This Season
Zach LaVine missed the Bulls' opener and they should fix him quickly.
Zach LaVine missed the Chicago Bulls' season opener on Wednesday due to an ongoing knee injury. Having offseason surgery, it's to be expected that he'll deal with recovery for some time as the 2022-23 NBA season rolls on.
But at what point can we start questioning the actual recovery process? Are the Bulls' training staff and strength coaches to blame here? Perhaps LaVine himself isn't doing what's completely necessary to heal the proper way.
Maybe this is a cumulative problem that has many causes and the Bulls are just caught in the crossfire. Whatever the case is, there is one thing the Bulls can and should do.
Fixing Zach LaVine's Injury
How do the Bulls get LaVine back to full health? They might need to take a page out of someone else's book and think a bit outside the box.
If you're a fan of podcasts and enjoy bettering your health and fitness, then you must check out Mind Pump on YouTube. It's one of the best and most informative fitness shows that I've come across and enjoyed immensely.
Recently, Mind Pump had NBA strength coach Cory Schlesinger on the podcast. The entire episode is incredibly fascinating from a fitness perspective. But this episode is truly unique, and listening to Cory explain his ways from a professional basketball aspect is incredibly intoxicating.
When it comes to sports, the athletes we watch on a nightly basis are truly the apex of the species. Seeing what they can do night after night is special and we who follow the Chicago Bulls know how great Zach LaVine can be.
One of Cory's specialties is getting the most out of the athletes he trains. Using techniques to train for mobility and explosiveness is great for anyone trying to get in better shape.
But when it comes to the highest of the top-performing athletes, this is crucial.
Can the Chicago Bulls get Zach LaVine ready to compete at the level we all know he can? Yes... probably. But they could gain an even greater edge by using some of Cory Schlesinger's tactics for training and health.
When the Bulls take on the Wizards on Friday night, will Zach be there? Maybe. But having him for the entire course of the 2022-23 season is where the Bulls might need some help.