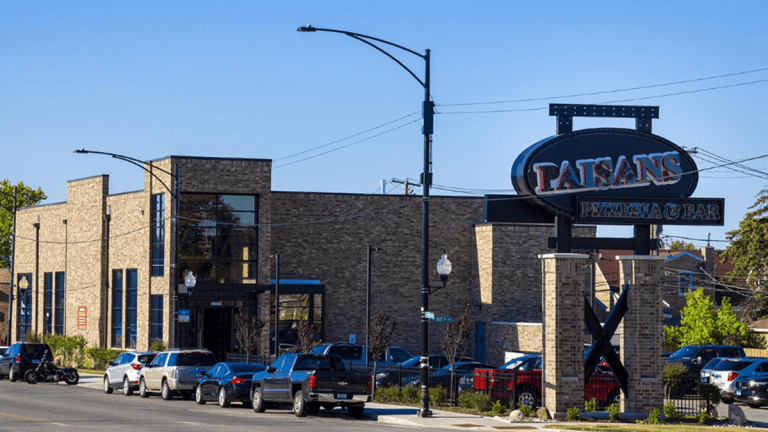 On Tap Eats: Paisans Pizzeria Serving High-Quality Tavern Style Pizza
On this edition of #OnTapEats, I traveled up to the West Lawn neighborhood of Chicago to check out Paisans Pizzeria.
On this edition of #OnTapEats, I traveled up to Paisans Pizzeria for some delicious tavern-style pizza, great wings, and a surprisingly good exclusive ale.
Paisans, located at 6545 S. Pulaski, has been serving up hot and fresh Chicago-style pies since 1985. At that time, it was a small takeout joint in Cicero. Now, there are seven Paisans locations all throughout Chicagoland.
The ambiance inside the restaurant is fantastic and gets you in the mood right away for a night of pizza, wings, and beer with your friends.
Paisans Very Own Ale
Speaking of beer, Paisans has the delicious Paisans Golden Ale on tap made by Chicago's very own Revolution Brewing Company. It's a crisp, light-colored, and full-bodied ale that has the perfect flavor and drinkability for pizza and wings.
Did I say wings? Yes, and Paisans serves up some meaty traditional ones. They come with a variety of sauces. I chose Buffalo and BBQ. The buffalo sauce has that traditional buffalo wing flavor and the bbq sauce wings are served as a sweet and tangy compliment.
How Good Is Paisans Pizza?
When I said Paisans serves "Chicago-style pies," I meant all of the styles. They have deep dish, stuffed, thin crust, and extra thin crust. And if that isn't enough, they also make a Sicilian-style pizza as well.
While the rest of the world tends to view Chicago-style pizza as solely a deep dish exclusive, folks around the Windy City know that Chicago serves up some of the best thin crust pizza as well. Although, in Chicago, we call it, tavern style.
For this night, I went with an extra thin crust sausage with green pepper and onions. If thin crust is your thing, then you won't be disappointed with Paisans. It has a nice crispy crust, sweet and savory sauce, loads of cheese, and great toppings. The sausage had a nice mild flavor that didn't overpower the rest of the flavors. The veggies had a nice texture and good size.
And if you have folks in your party that aren't into pizza, before calling them a cab and sending them home, Paisans has a large variety of other Italian treats on their menu including calamari, chicken parmesan, lasagna, and spaghetti and meatballs. I think I'm going to make a second trip to try the Dragon Fries on the appetizer menu.
Paisans takes all forms of payment and you can call to make reservations or find them on OpenTable.
So, if you're looking for a new pizza spot around the city or if you just need to have some good pizza, I definitely recommend adding Paisans Pizzeria to your list.
RELATED: This hit restaurant in Chicago could very well be the G.O.A.T.