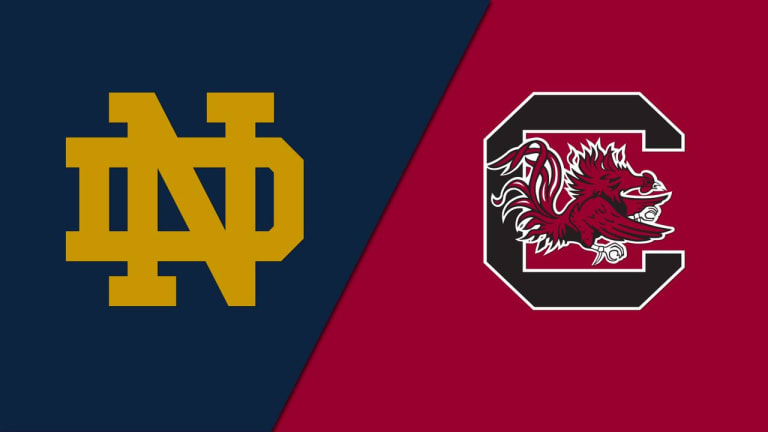 No. 21 Notre Dame vs. No. 19 South Carolina: Gator Bowl Preview, How to Watch
The Fighting Irish will be without defensive tackle Jayson Ademilola because of an undisclosed injury.
Marcus Freeman will look to win his first bowl game as head coach of Notre Dame when the Fighting Irish play South Carolina in the Gator Bowl on Friday at TIAA Bank Field in Jacksonville, Florida.
Freeman lost his first bowl game with Notre Dame, a 37-35 loss to Oklahoma State in the Fiesta Bowl. It was Freeman's first game as head coach after Brian Kelly left for LSU.
In his first season at the helm, Freeman has guided the No. 21 Irish to an 8-4 record amid a quarterback change. Tyler Buchner was lost for the season two games in because of a shoulder injury and Drew Pyne took over. Pyne led Notre Dame to a 6-2 record, including a 35-14 upset win over then-No. 4 Clemson. But Pyne has since left Notre Dame for Arizona State, and Buchner is back behind center.
Buchner will be without his No. 1 target in All-American tight end Michael Mayer, who will skip the bowl game and enter the 2023 NFL Draft. Without Mayer, Buchner will count on Mitchell Evans to be the Irish's top tight end. Wide receivers Lorenzo Styles (340), Jayden Thomas (295), and Braden Lenzy (220) each have less than 400 receiving yards this season. Thomas, a freshman, leads the pack with three touchdowns.
What the Irish lack in high-end receiving talent, they make up for in the backfield with Audric Estime (825) and Logan Diggs (732). Estime is the workhorse back with 11 touchdowns, while Diggs and speedster Chris Tyree each have three.
Jayson Ademilola Out
Notre Dame's defense will be without defensive end Isaiah Foskey (NFL Draft) and defensive tackle Jayson Ademilola (undisclosed). Ademilola missed the Boston College game with a concussion but returned to play the next week in the regular-season finale at USC. Notre Dame will use starting nose tackle Howard Cross along with a combination of Chris Smith, Rylie Mills, and potentially Gabriel Rubio in Ademilola's place. Ademilola's twin brother, Justin Ademilola, also figures to contribute.
On the back end, starting safety Brandon Joseph (ankle) is a game-time decision. Notre Dame's secondary will contend against Spencer Rattler, who has thrown for 2,780 yards and 16 TDs this season. Rattler's top target is Antwane Wells Jr., who leads the Gamecocks in yards (898), receptions (63), and scores (six). On the ground, Marshawn Lloyd leads the Gamecocks with 573 yards on 111 carries and nine TDs. He also has 18 catches for 176 yards and two scores.
Series History
Notre Dame is 3-1 in the all-time series against the Gamecocks. The Irish won the first three matchups in 1976 (13-6), 1979 (18-17), and 1983 (30-6) before falling in 1984 (36-32). The Gator Bowl will be the first neutral site game in the series.
Irish's Gator Bowl History
Notre Dame is 1-2 in the Gator Bowl. The Irish defeated No. 20 Penn State 20-9 in 1976 under Dan Devine. Notre Dame lost to Georgia Tech 35-28 in 1998 with Bob Davie at the helm and 28-6 to North Carolina State in 2002 in Tyrone Willingham's debut season.
Odds
Line: ND -2
Over/Under: 52
How to Watch
What: No. 21 Notre Dame vs. No. 19 South Carolina
Time: 2:30 PM CT
TV: ESPN
Where: ITAA Bank Field; Jacksonville, Fla.