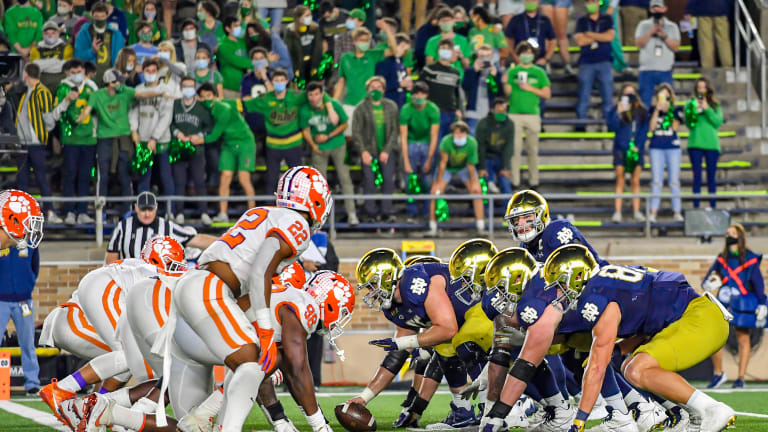 Notre Dame vs. No. 4 Clemson: Preview, How to Watch
The Fighting Irish look for their third win over a ranked opponent this season.
Notre Dame looks to ruin No. 4 Clemson's College Football Playoff hopes when the Tigers visit Notre Dame Stadium on Saturday in South Bend, Indiana.
The Fighting Irish (5-3) defeated No. 16 Syracuse 41-24 last week for their second straight win and fifth in their past six games. This season, Notre Dame has victories against two No. 16-ranked teams, BYU and Syracuse.
The Irish will carry their 26-game regular-season win streak against ACC opponents into this matchup. Notre Dame hasn't lost a regular-season game against an ACC foe since a 41-8 defeat against Miami in 2017. In that span though, the Irish have lost two postseason games to Clemson - a 2018 CFP semifinal and the 2020 ACC Championship game.
In order to keep their streak alive, the Irish will rely on their run game. It'll be a tall task against Clemson, which boasts the country's 11th-best run defense in yards per carry. Notre Dame has averaged 4.7 yards per carry in the past six games. The offensive line will play a large part in getting the run game going on what could be a rain-soaked field.
Clemson (8-0) will go back to DJ Uiagalelei at quarterback after he was benched in the third quarter two weeks ago against Syracuse. Freshman Cade Klubnik helped the Tigers rally from a 21-10 deficit. The Irish defense will need to limit Uiagalelei's running ability, especially in the red zone.
History
Notre Dame is 2-4, including 0-2 in the postseason, in the all-time series against Clemson. The Irish won the last meeting in South Bend between the two teams in 2020 with a 47-40 victory over the No. 1 Tigers. A month later, Notre Dame lost the rematch 34-10 in the ACC Championship.
Odds
Line: Clemson -3.5
Over/Under: 44
How to Watch
What: Notre Dame vs. No. 4 Clemson
Time: 6:30 PM CT
TV: NBC
Live Stream: Peacock
Where: Notre Dame Stadium; South Bend, Ind.