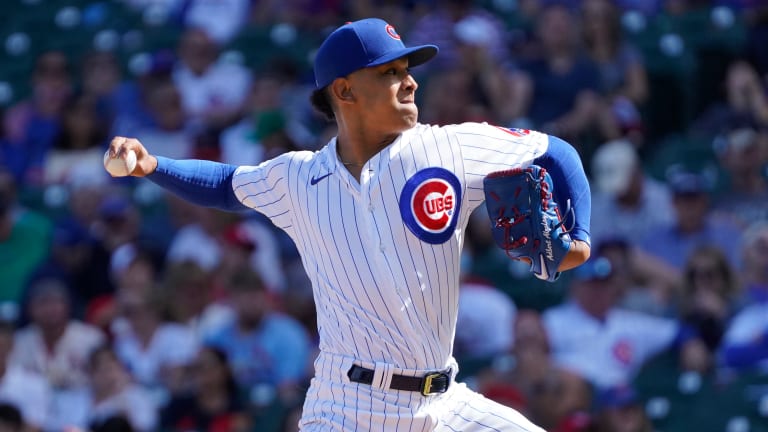 Adbert Alzolay Expected to Join Cubs This Weekend in Bullpen Role
RHP Adbert Alzolay, who has yet to pitch in the majors in 2022, is expected to join the Cubs this weekend in a bullpen role.
The Chicago Cubs will get some well-needed bullpen reinforcements this coming weekend. According to David Ross, RHP Adbert Alzolay is expected to join the Cubs this weekend against the Colorado Rockies. He will operate out of the bullpen once arriving in Chicago. 
Alzolay has yet to pitch at the major league level in 2022. After suffering an injury during Spring Training, it took majority of the season for Alzolay to begin throwing again. However, he made one appearance at Rookie ball and four appearances with Triple-A Iowa before the news released that he'll be joining the Cubs again. 
In his lone appearance at Rookie ball, Alzolay went 3.0 innings allowing only one run while striking out four and walking two. In four appearances at Iowa, the numbers don't look the best. He carries a 6.75 ERA over 9.1 innings of work. However, he still managed to strike out 12 in that time. He walked six, but any work out of Alzolay is encouraging for the Cubs and the 27-year-old right-hander. 
Although he was on the starting pitcher trajectory, Alzolay was great out of the bullpen at the end of the 2021 campaign. Perhaps in the near future, he becomes an elite arm who can stretch over multiple innings for the Cubs. Worst case scenario, he is still useful as an arm who can bridge games to the back of the bullpen or even close those games out entirely. 
Worth noting, activating Alzolay from the 60-day IL will require freeing up a spot on the 40-man roster. Expect a potential Rafael Ortega 60-day designation as the corresponding move. 
What's On Tap Next?
Following the series finale with the New York Mets on Wednesday, the Cubs will welcome the Colorado Rockies to Wrigley Field on Friday for a three-game set. Thursday presents an off day for the Cubs to recoup after their trip to New York.