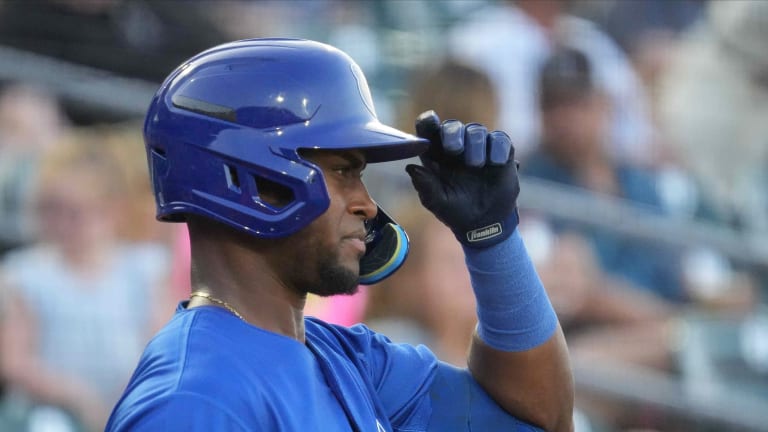 Cubs Prospect Alexander Canario Suffers Serious Ankle and Shoulder Injuries
The Cubs' No. 9 ranked prospect went down awkwardly with ankle and shoulder injuries in a Dominican Winter League game.
Chicago Cubs' No. 9 ranked prospect Alexander Canario went down awkwardly with serious left ankle and left shoulder injuries in a Dominican Winter League game on Thursday.
Upon viewing the video circulating Twitter, the injury looked horrific. Hector Gomez and Arturo Bisono reported that Canario suffered a bimalleolar ankle fracture and left shoulder dislocation. The ankle fracture was visibly gruesome. The shoulder, however, was a little more challenging to see. My assumption is Canario dislocated it when he hit the ground awkwardly.
This is not the news anyone associated with the Chicago Cubs wanted to hear. Alexander Canario was scorching hot throughout most of the 2022 minor league season. Minor League Baseball recently announced him as one of three 2022 Organization All-Stars for the Cubs, joining Matt Mervis and Darius Hill of the Iowa Cubs.
The Cubs acquired Canario and Caleb Kilian via trade in a move that sent Kris Bryant to the San Francisco Giants last season. So far, Canario has been exactly what the Cubs thought they were getting, a power hitter that plays good outfield defense and has some wheels on the basepaths.
Starting at High-A ball this season, Canario muscled his way through Double-A to Triple-A by the season's end. Across all levels, Canario hit .252 with 37 home runs, 97 RBIs, and 23 steals. He was only caught stealing three times, and his 37 homers ranked second in all of minor league baseball.
There was an outside chance Alexander Canario would've started the 2023 season with the major league club. However, last night's events put a damper on that possibility, assuming he'll have some catching up to do when he gets healthy. The Chicago Cubs probably still would've liked to get him more experience at Triple-A. Playing Winter League ball for the Aguilas Cibaenas allowed him to continue developing. Unfortunately, that's been halted due to these injuries.
How Alexander Canario's Injury Impacts the Cubs
The timeline for his recovery is uncertain at this time. Hopefully, Canario has a speedy recovery and can pick back up right where he left off. I hate to look at things this way, especially as fresh as the injuries he suffered are, but maybe it came at the right time for the Cubs.
Perhaps this pushes Jed Hoyer and Carter Hawkins to pursue someone like Aaron Judge a bit harder in the free agency market, given the team can't project when Canario will be ready for a Major League promotion. Brennen Davis is close, but I'd imagine they felt better about two near-ready outfield prospects than one. And even if it doesn't mean pushing for a Judge-like talent, they'll need to make sure the outfield has more MLB-ready depth as a whole.
Injuries are the worst part of sports. Here's to hoping Alexander Canario can fully recover and return to the diamond relatively soon. That type of ankle fracture usually requires surgery. We'll keep you posted with any updates.