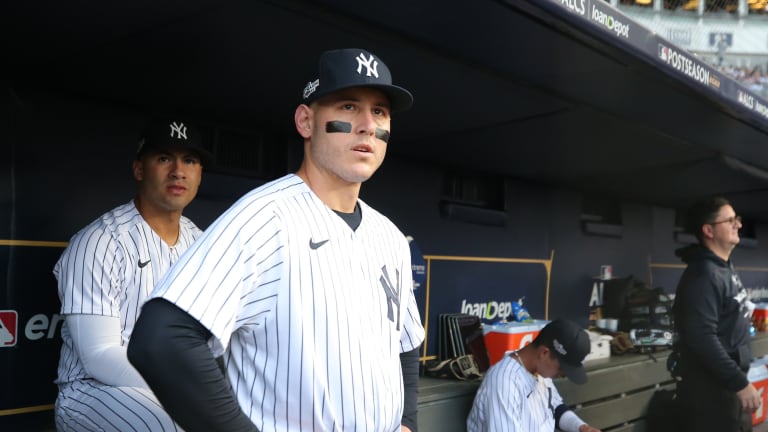 Anthony Rizzo Opts Out of Contract with Yankees
Former Chicago Cubs first baseman Anthony Rizzo has opted out of his contract with the New York Yankees.
With the offseason inching closer after the conclusion of the World Series, the Chicago Cubs are primed for a big offseason. One of their needs? A first baseman. Well, the free agency pool just added another name as former Cub Anthony Rizzo has opted out of his contract with the New York Yankees. 
Rizzo tied a career-high with 32 home runs this past season in New York. Last offseason, Rizzo signed a two-year contract to remain with the Yankees following the trade in 2021 that sent him to the Bronx. However, Rizzo had an opt out in the contract after year one, which he exercised on Monday night. 
Rizzo was owed $16 million for the 2023 season. Now, Rizzo will hit free agency looking for more. With Rizzo hitting free agency, is a reunion in Chicago in the cards?
Rizzo's Return?
The real question Cubs fans are asking themselves is "will Anthony Rizzo want to return to the Cubs?" After a reportedly low offer from the front office seasons ago, is there any bad blood in Rizzo's heart? We analyzed the idea of Jose Abreu vs Anthony Rizzo for the Cubs, and this opt out allows that possibility to become a potential reality. Fans surely would love to see him return, but again, will he want to?
Coming off a high-power, low-average season, Rizzo still fills a massive hole at first base. Add in the ban of the shift and Rizzo's numbers are likely to improve in 2023. In addition, he brings stability and a loved face to the Cubs roster with some big additions likely this winter. 
The ball is truly in his court. Step one toward a reunion is complete. Now we ask, "will the Cubs be at the table for Rizzo's services this winter?" We'll surely find out.