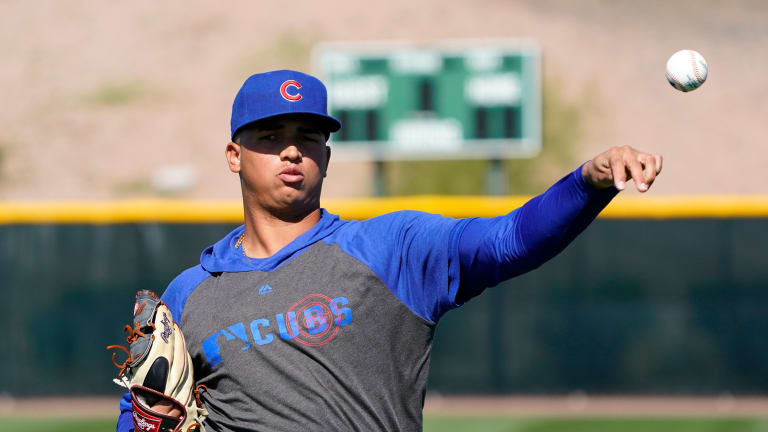 Cubs Re-Sign Former Top Pitching Prospect Brailyn Marquez
The oft-injured lefty will return to the Cubs on a minor-league deal.
According to their team website, the Chicago Cubs have re-signed former top pitching prospect Brailyn Marquez to a minor-league contract.
Due to injuries, the southpaw hasn't pitched in a game since his lone appearance with the MLB club on Sept. 27, 2020. Lacking 40-man roster spots, the Cubs non-tendered Marquez on Nov. 18.
Unfortunately, the decision to non-tender him had been trending in that direction all season. The Cubs only saved four Rule 5 Draft-eligible players, and Marquez isn't one of them. Alas, he is eligible and at risk of being selected by another club Wednesday. However, Marquez was further down the list compared to the four players the Cubs protected. It's hard to imagine another team will spend a Rule 5 pick on him, given his long track record of injuries and inability to stay on the field.
At one point, Brailyn Marquez was not only the Chicago Cubs' top pitching prospect but the No. 1 overall prospect in their system, including position players. The 6-foot-4 lefty reached 100 MPH and topped out at 102 MPH on the radar gun before the injuries began.
It was sad to see a once very promising power lefty get non-tendered. The other fear was that he wasn't relatively healthy enough to return soon. Before the injuries, Marquez still had some ironing out to do regarding command. With this re-signing, the Cubs are signaling hope that he isn't far off from a return to the diamond.
A bullpen role is the most likely scenario for Brailyn Marquez to limit his innings and keep him healthy. At least there's hope! Who knows what his velocity will look like, but imagine opposing teams facing 100-102 MPH late in games.