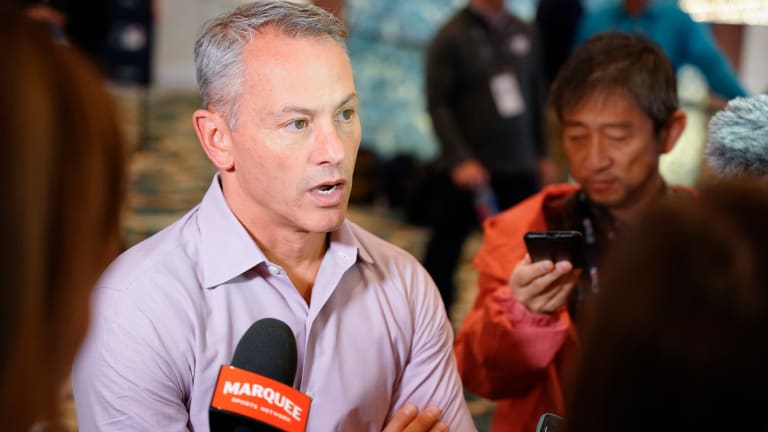 Breathe Cubs Fans: Correa Deal Absurd By Most Standards
Hey Cubs fans... relax... Carlos Correa's deal with the Giants will only hurt them down the road.
Time to breathe. Most Chicago Cubs fans are either waking up to the news involving Carlos Correa and the San Francisco Giants or were awake late enough to go to bed angry because Correa is not a Cub. Nonetheless, before your tempers flair, let's take a second and simply breathe. 
In case you missed it, Correa agreed to a 13-year, $350 million deal with the Giants. As noted in the news article linked above, the dollars aren't the issue, it's the term. 13 years for any player that's older than maybe 25 years old is absurd, even for baseball where players can play into their late 30s. 
However, crazy term be damned, Cubs fans are angry. Just go ahead and look on Twitter, it's crawling with angry fans. There are two things fans should consider. The first, Dansby Swanson is still available. Second, 13 years is a long time. 
Swanson Watch in Full Effect
If it wasn't already, the Dansby Swanson watch is fully on. The final big-time shortstop on the market will certainly receive plenty of attention from a number of teams. However, the Cubs should be all in on bringing the shortstop to Chicago. 
Swanson's Gold Glove, pop with the bat, and championship pedigree should be attractive to the Cubs, and addresses a number of things the Cubs need entering 2023. Now, if the Cubs can negotiate a seven-year deal, even if it means higher average annual value, then that is a perfect move for a team not looking to commit too many dollars to the far-off future. 
However, Swanson's suitors are a threat to the Cubs. The Minnesota Twins are certainly going to look at Swanson as an option, especially after missing on Correa. In addition, there will likely be six to eight other teams calling about the Georgia native's services. 
Yes, Swanson is not Correa. However, Swanson is still one hell of a player that makes the Cubs significantly better in 2023. If they get him, it's still a win. 
13 Years?
Where will you be in 13 years? Think about it. 13 years is a long time from now. From a player standpoint, good for Carlos Correa. From an organization standpoint, good for the Chicago Cubs. 
Committing to any one player for a long time is tough. Unless the player is super young, see Bryce Harper as maybe the most reasonable example. There is little guarantee that anything beyond the first five years of the contract will be worth the value. Yes, inflation should make that contract look favorable in a few years. That said, the way baseball's popularity is declining, maybe that isn't the case?
That topic aside, it's hard to commit to a player for that long. Even for the Cubs. Yes, it's easy to say the Cubs should back up the Brink's truck because they're the Cubs. But, being smart and not committing to a player for 13 years isn't necessarily bad. Having Carlos Correa would be nice, but for 13 years? Meh. 
Now, if the Cubs were able to convince Correa to take something in the neighborhood of eight years with that $350 million price tag, I think he's a Cub. Nearly $44 million per season is excessive, but the long-term risk is greatly decreased. In this case, he's making roughly $27 million per season, but he'll be making money with the Giants when your life is completely different. Youngsters reading this will be graduating high school or college. Those in their 20's will likely have families of their own. And, let's be honest, there will be people who never see the end of that contract. Let me reiterate, 13 years is a long time. 
In The End...
In the end, be mad at Jed Hoyer for not offering that deal. Call the Cubs frauds and a mid-market team. Say you'll stop going to games. That's all fine and dandy. However, let's be very clear, if the Cubs are able to do more in the future because they avoided such a contract, don't come calling Jed smart or the Cubs wise when hindsight is 20/20. 
Now, turn your hope to Jed Hoyer and the possibility of signing Swanson. That move will absolutely still make the Cubs better. If they miss on Swanson, then see what else happens. In case you didn't know, the offseason is far from over. 
Cubs fans, take a piece of advice from my good friend Jonnie Nonnie. Never, and I repeat, never get up for the let down. It's ok to have hope, but don't get too invested in one idea.