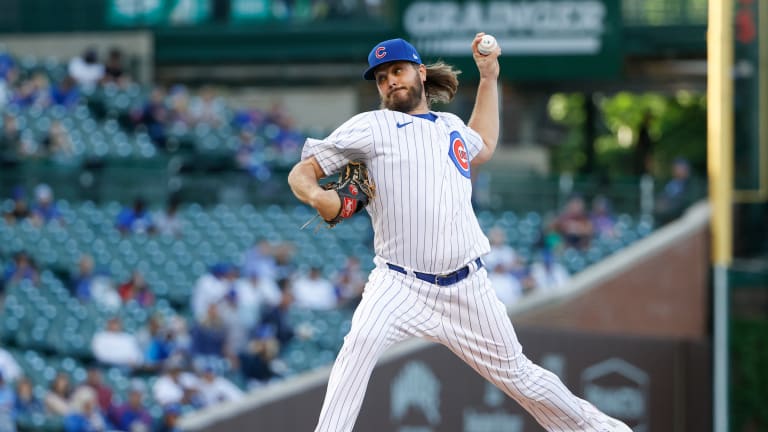 Building Arms: Miley to Throw Tuesday, Heuer Throwing
Wade Miley will pitch for the Cubs on Tuesday and reliever Codi Heuer is throwing again after Tommy John Surgery.
Although the season is already winding down for 2022, the Chicago Cubs are seeing some of their injured arms coming back to health. According to the Cubs, and a certain reliever himself, Wade Miley and Codi Heuer are closer to returning than ever before. For Miley, he'll start for the first time since June 10 when he takes the mound against the Cincinnati Reds on Tuesday. As for Heuer, the reliever posted a light toss session on his Instagram account, indicating his recovery from Tommy John Surgery is progressing. 
Wade Miley
Miley returns to the mound for the first time since June 10 on Tuesday when the Cubs open a three-game set with the Reds. Miley, who has looked very good in limited action this season, was considered a sneaky steal during the offseason. However, a plethora of injuries have limited the veteran lefty to just four starts. 
Despite the small sample size, Miley has been excellent for the Cubs. In his 19.0 innings of work across those four starts, the big lefty owns a 2.84 ERA. His eight walks to just 12 strikeouts might pose a concern, but Miley's numbers have been elite when it comes to keeping runs off the board. 
After a move to the 60-day IL just a few days ago, seeing Miley return is excellent for the Cubs. When the news is made official, a 40-man move might be needed. Nonetheless, getting a look at Miley, possibly determining his future beyond this season with the team, will be crucial for the Cubs. 
Codi Heuer
Many Cubs fans talk about the likes of Brandon Hughes, Jeremiah Estrada, and others when thinking about the Cubs' 2023 bullpen. However, fans shouldn't forget about RHP Codi Heuer when discussing the future.
After he was acquired from the White Sox at the 2021 trade deadline, Heuer shined for the Cubs down the stretch. In 28.2 innings of work over 25 appearances, Heuer posted a 3.14 ERA with the Cubs. His walk numbers were a tad high, and his strikeouts were a bit underwhelming, but his effectiveness was not questioned. With a full offseason to continue improving, the 26-year-old reliever will be an important piece next season. 
It might only be light toss, but seeing Heuer throwing is still encouraging. There are reports that he won't be ready for the beginning of the season, but a return by May or June of next season would be beneficial for the bullpen's 2023 outlook and depth.
What's On Tap Next?
With an off day on Monday, September 5, the Cubs return to action on Tuesday against the Reds. The three-game set will begin with a 6:40 p.m. CDT first pitch in the series opener at Wrigley Field.