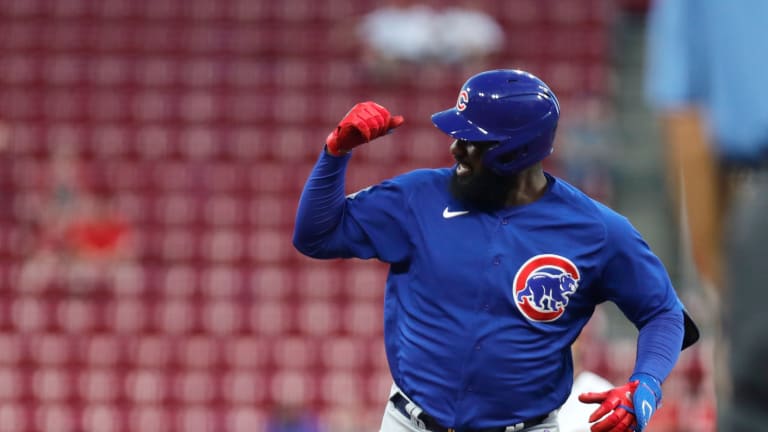 Cubs Crush Reds to Finish 2022 Season Strong
Looking at the positives from the Cubs' season-ending 15-2 thumping of the Reds.
The Chicago Cubs finished their 2022 season on a high note with a 15-2 beatdown of the Cincinnati Reds. Though the North Siders dropped the final series of the campaign 2-1, Wednesday's finale provided optimism heading into the offseason. Let's take a look at a few of the highlights from the final game of the season.
The Franimal Has One Last Franmeal
Designated hitter Franmil Reyes was a nice pickup for the Cubs earlier this year, and Wednesday's offensive production was a nice little reminder. The righty slugger went 3-for-5 and drove in three runs thanks to an RBI single and this two-run jack in the top of the eighth:
Since joining the Cubs in early August after being DFA'd by the Cleveland Guardians, Reyes has shown signs of the offensive power threat he once was in the American League. In 48 games with the Cubs, he notched 15 extra-base hits, including five home runs, eight doubles, and two triples, as well as 19 RBIs.
Reyes will enter the offseason as a free agent and many Cubs fans would agree that signing the slugger to a short-term deal wouldn't be a bad idea. Who knows? A full season in Chicago could lead to another 30-plus home run performance from the Franimal.
McKinstry and Bote Jump On Board with the Bats
Infielders Zach McKinstry and David Bote each contributed to the offensive pounding in Cincinnati with multi-hit/home run performances. Bote finished the game going 2-for-4 with a double, a home run, and five RBIs. McKinstry's 2-for-6 day included a home run and three RBIs.
McKinstry will enter this offseason without a contract for next season. Since he's not eligible for arbitration yet, an extension for next year wouldn't break the bank and only cost the Cubs a roster spot. Depending on how the Cubs plan to navigate the offseason, it wouldn't be the worst idea in the world if they decide to offer the left-handed utility man a contract for 2023.
Alzolay Shines from the Bullpen
Adbert Alzolay didn't see much playing time in 2022 due to an injury that kept him out for most of the season. But Wednesday's performance was another reminder of how dominant he can be. The young righty pitched 2.1 innings out of the bullpen with three strikeouts, one walk, and two hits to earn the win.
Alzolay's role for 2023 is up in the air, and it will likely depend on whether the Cubs decide to add more starting pitching this offseason. In six relief outings this season, he has shown signs of being an effective multi-inning arm. In 13.1 innings pitched, he had a 3.38 ERA with 19 strikeouts and just two walks.
If Alzolay ends up being an innings-eater out of the bullpen in next season, I won't be mad. Especially if he continues to put up these kinds of numbers.
What's On Tap Next for the Cubs?
The Chicago Cubs enter the offseason with a plethora of question marks. Does Willson Contreras get an extension? What about Ian Happ? Will there be a new superstar shortstop in Wrigleyville next year? What about an ace? The list goes on and on.
All of these questions hinge on whether or not ownership decides to open up the checkbook and spend money. Fans have heard all season that Cubs ownership has so much money to spend in this winter. Now, it's time for Tom Ricketts and co. to put their money where their mouth is. Get ready, Cubs' fans, it's going to be a wild offseason.