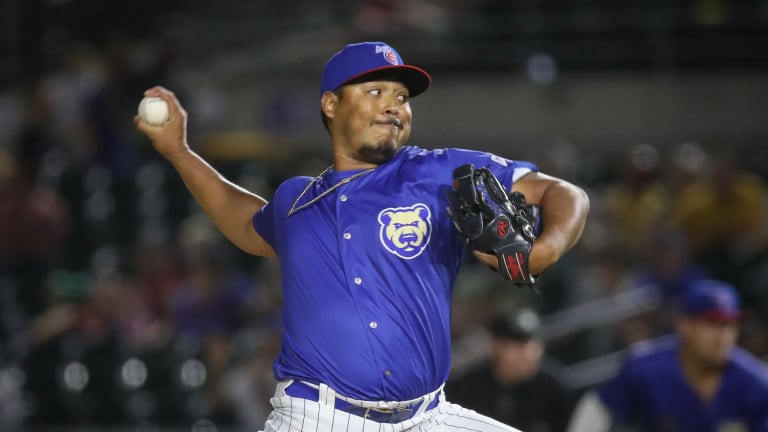 Cubs Add Little, Estrada to Roster for Toronto Series
With two spots to fill on the roster in Toronto, the Cubs are bringing Triple-A relievers Brendon Little and Jeremiah Estrada up to the majors.
With Justin Steele and Adrian Sampson not joining the Chicago Cubs in Toronto, the team has the ability to add two arms. Per Meghan Montemurro of the Chicago Tribune, the Cubs are adding LHP Brendon Little and RHP Jeremiah Estrada to the roster for the series in Toronto.
As indicated above, since Sampson pitched fewer than four innings against the Milwaukee Brewers on Sunday, the team is allowed to replace him for the series. Little and Estrada will be those two names heading north of the border.
At Triple-A Iowa, Brendon Little has appeared in 29 games, pitching 39 innings thus far. Over those 39 innings of work, the lefty has a 4.15 ERA and 41 strikeouts compared to 20 walks. Little was a 2017 first-round selection by the Cubs.
In addition, Jeremiah Estrada is a revelation this season. After beginning the season with High-A South Bend, Estrada has worked his way to Triple-A in 2022. Across 48.1 innings over 34 appearances at all three levels (High-A, Double-A, Triple-A), Estrada owns a 1.30 ERA with 78 punchouts and 20 walks. The flame-throwing righty has been sensational in the minors this season.
Both pitchers are young. Brendon Little is only 26 and Jeremiah Estrada is 23. There is no doubt that this series presents an opportunity for pair of pitchers to make an impression. If that impression is good, they both might find themselves in the bullpen to begin the 2023 season with the Chicago Cubs.