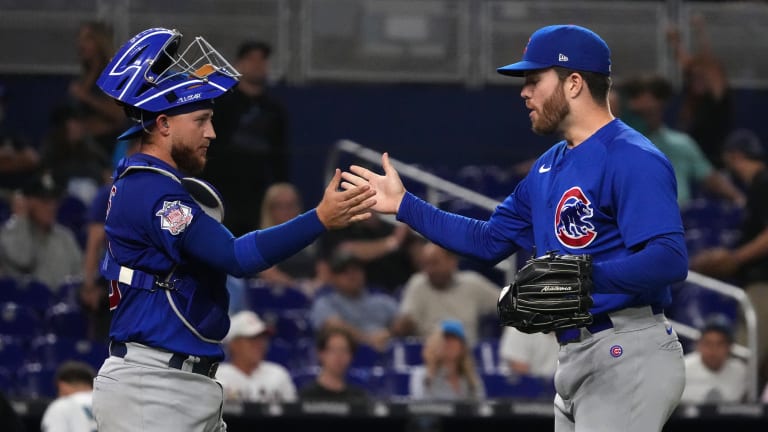 Cubs Catcher P.J. Higgins Elects Free Agency
Rather than accepting his assignment to Triple-A Iowa after clearing waivers, P.J. Higgins has elected free agency.
The offseason has been nothing short of busy for the Chicago Cubs. From big-fish additions such as Dansby Swanson, to solid depth moves such as Tucker Barnhart, the Cubs are filling in holes. However, with every addition comes a subtraction on the 40-man roster. The latest roster casualty was P.J. Higgins, who cleared waivers and was out-righted to Triple-A Iowa. Higgins was DFA'd as a part of the Barnhart signing. Now, the catcher has elected free agency rather than reporting to Triple-A. 
In addition to adding Barnhart to join Yan Gomes behind the dish, the Cubs also added catcher Dom Nunez to the roster. He signed a minor-league deal, but that includes an invite to Spring Training. Once Nunez was added to the roster, it felt as if Higgins was further out of the major league picture. It appears Higgins felt the same way, leading to his election for free agency. 
Higgins played in 83 total games for the Cubs, with 74 of those coming in 2022. In those 74 games, Higgins slashed .229/.310/.383 with six home runs and 30 RBI. Although not the greatest numbers, Higgins showed plenty of versatility after making starts at catcher, first base, and even third base during the season. That said, following all the additions at positions Higgins plays, its fair to understand why he wants a shot elsewhere. 
Now that Higgins is gone, the Cubs might see Miguel Amaya's future in a better light than before. The team has added depth now with Gomes, Barnhart, and Nunez in the fold, but having a clearer picture at the position for the future will also be a necessity moving forward. Higgins likely figured in as depth, but his departure opens up that "third catcher spot" to someone like Amaya in the not-so-distant future.