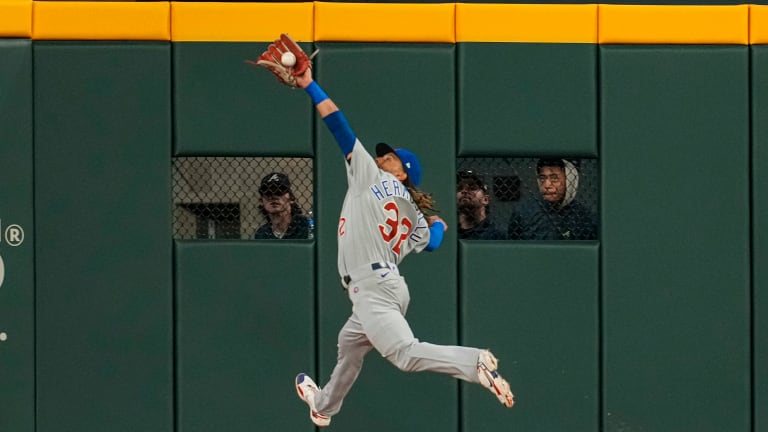 Cubs DFA Farrell, Activate Miley and Hermosillo, and More on Tuesday
The Chicago Cubs DFA'd RHP Luke Farrell on Tuesday to open up a 40-man roster spot for Wade Miley's activation. In addition, Michael Hermosillo was activated among a few other moves made by the team.
After the Chicago Cubs made a flurry of moves in the evening on Monday, the team was not done ahead of their matchup with the Cincinnati Reds on Tuesday. In order to make room for LHP Wade Miley, who will start on Tuesday, the team needed to free up a 40-man roster spot. Miley is being activated from the 60-day IL. As a result, RHP Luke Farrell is the odd man out and has been designated for assignment. 
In addition, the team has added OF Michael Hermosillo from the 60-day IL, placed catcher Willson Contreras on the 10-day IL, and designated pitcher Nicholas Padilla for assignment. 
Luke Farrell
Farrell returned this season for his second stint with the organization. He last pitched with the Cubs back in 2018. The 31-year-old appeared in four games this season while making two starts. Over 11.0 innings of work, Farrell owns a 4.09 ERA. Although not the prettiest numbers, he was serviceable to the Cubs in minimal action. 
With the future in mind, Farrell is unsurprisingly the odd man out on the 40-man roster. There was no chance the Cubs were going to let RHP Javier Assad, RHP Jeremiah Estrada, or someone like LHP Brandon Hughes have to try and clear waivers. With a number of Rule 5 eligible players, getting rid of some players with no future here makes the most sense. In Farrell's case, the Cubs likely don't see a plan for him beyond this season and decided to cut ties now.
Hermosillo Returns
Michael Hermosillo's return is a welcoming sign with regard to the Cubs evaluating players. The 27-year-old outfielder provided some spark at the end of the 2021 season, but has been limited to 17 games in 2022. The last time Hermosillo saw game action was May 7 against the Los Angeles Dodgers. 
How much we'll see of Hermosillo remains to be seen. However, after struggling early this season, dealing with an outfielder log jam, and playing on a one-year deal, the odds don't stack well in Hermosillo's favor. That said, the home stretch of the 2022 season is a perfect opportunity for him to prove he deserves a roster spot, even if that's not in Chicago. 
To make room for Hermosillo, the Cubs DFA'd Nicholas Padilla. The 25-year-old appeared in just one game for the Cubs, pitching 1.2 innings in the second game of the Cubs/Cardinals doubleheader on August 23, which saw the Cubs lose 13-3.
What's On Tap Next?
The Cubs and Reds do battle for three games beginning on Tuesday. First pitch for Tuesday's and Wednesday's games is set for 6:40 p.m. CDT. Thursday's series finale will be a 1:20 p.m. CDT first pitch.