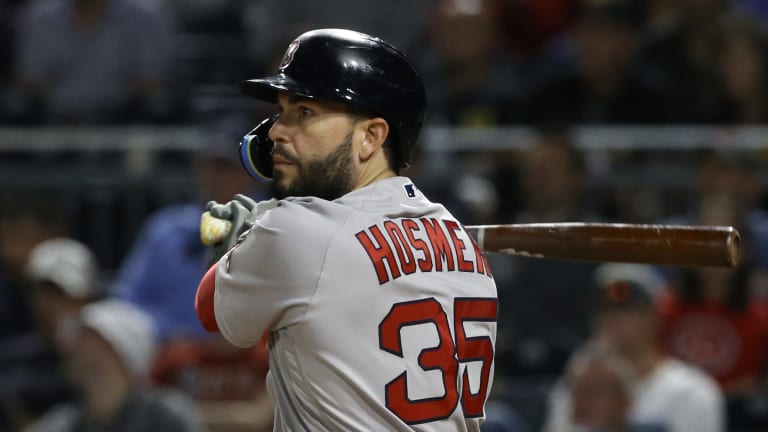 Cubs, Eric Hosmer Nearing Deal?
The Cubs are reportedly trending toward signing the former World Series Champion first baseman.
The Chicago Cubs and Eric Hosmer are currently in negotiations for a potential deal for 2023 that "looks promising," according to Jon Heyman of the New York Post.
This isn't the first time the Cubs have been linked to Hosmer. With the organization looking to fill a hole at first base, both Hosmer and Trey Mancini have been potential candidates for the job.
After joining the Boston Red Sox in 2022 via a three-way trade that sent Juan Soto from the Washington Nationals to the San Diego Padres, Hosmer was designated for assignment at the end of the season. In a little over 100 games between the Red Sox and Padres, the lefty slashed .268/.334/.382 with eight home runs, 19 doubles, and 44 RBIs.
Hosmer has never been much of a power hitter throughout his career, posting 25-plus home runs in just two seasons (2015, 2016). But he has been consistent with his on base percentage throughout his 12-year career (.336 career average) and he can play Gold Glove caliber defense (four-time Gold Glove Award winner).
The question from Cubs fans for Jed Hoyer would be: does it really make sense for the organization to sign the veteran lefty to play first base when they already have a young lefty first baseman in the farm system with the potential to be a major power threat in Matt Mervis?
One could argue that signing Hosmer could potentially help guys like Dansby Swanson, Nico Hoerner, and Christopher Morel on the defensive side. But on the other hand, spending money for a player that doesn't pose a legitimate power threat at the plate and would keep guys like Mervis from gaining MLB experience may not make sense. Then again, maybe signing a former World Series Champion in Hosmer could help younger players like Mervis and Morel adjust to big league pitching.
If the Chicago Cubs do in fact sign Eric Hosmer, one would assume it would be for a one or two-year deal at most. At the end of the day, it wouldn't be a terrible move if the veteran first baseman was in a Cubs uniform in 2023.