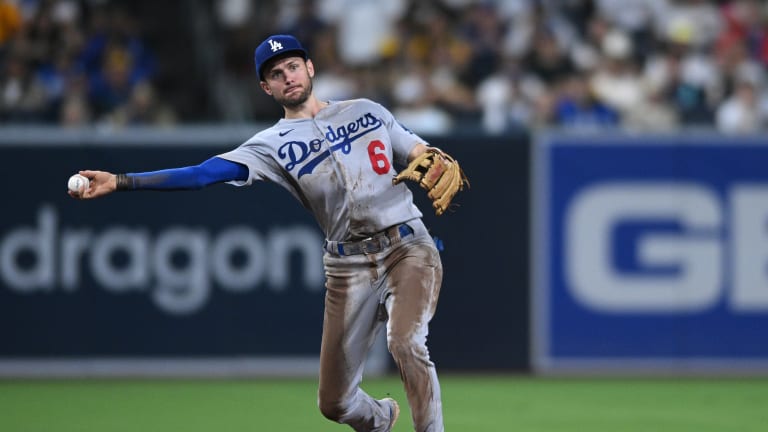 Cubs Expect to be Busy, Mutual Interest with Trea Turner, Carlos Rodon
With a busy offseason likely ahead for the Cubs, it appears SS Trea Turner and LHP Carlos Rodon have mutual interest in joining the team this winter.
Later in the evening on Tuesday, following a significant Chicago Cubs' victory, some hopeful rumors began to swirl on the internet. According to David Kaplan, it appears the Cubs, and SS Trea Turner and LHP Carlos Rodon, have mutual interest in one another this winter. 
Per Kaplan, he said the following on the matter: 
"Heard something interesting today. Trea Turner? Definitely interested in the Cubs. Definitely. And the Cubs? Mutually interested in Trea Turner. And guess who else is interested in the Cubs? Carlos Rodon. Yes. Loved pitching in Chicago. Knows that the Cubs are a team with some players coming out of the system, and they need a top of the rotation arm...But I'm just telling you: This team is going to spend, I'm told. For sure. And those are two of the guys they're targeting."

- David Kaplan on the Cubs Talk podcast
Wow. Now that is exciting to hear. Remember, Carlos Rodon is one of the top arms this season and Trea Turner is consistently one of the best bats in the league. Hell, just check out their season numbers so far:
Carlos Rodon: 162.2 IP, 12-8 record, 2.93 ERA, 212 K's, 48 BB
Trea Turner: .305/.350/.488, 20 home runs, 96 RBI, 37 doubles, 24 stolen bases
In addition, they both make sense as additions for the Cubs. 
Rodon Atop the Rotation
Just imagine Carlos Rodon leading the Cubs' pitching staff. Over the course of the season, the Cubs have found a potential ace in the form of Justin Steele, and a major contributor in the rotation in the form of Keegan Thompson. Don't forget about Marcus Stroman, a healthy Kyle Hendricks in 2023, and potentially Drew Smyly being in the conversation for the rotation. Adding Rodon immediately makes them stronger. 
In addition, Rodon's addition allows the Cubs to strength the bullpen with the likes of Keegan Thompson potentially returning to his multi-inning bullpen role. Whether that becomes the case or not, one thing is clear. The Cubs will have a lot more depth in the rotation going forward. 
Turner Boosts Lineup
In addition, Trea Turner's addition to the lineup feels almost too perfect for the Cubs. Why? Well, on a team who has won a number of games by executing "small ball", he fits right in. Now, I'm not saying Turner doesn't have power, as 20 home runs with the newer baseballs is still great, but he can run, steal, play quality defense, and drive in runs. He figures perfectly into the current state of the Cubs' lineup. 
Imagine, Ian Happ, Seiya Suzuki, Trea Turner, and others would turn the Cubs' lineup into one of the better ones in the NL Central. Adding his presence will be massive for a Cubs team with young talent coming in order to compete in the near future. 
Possible Lineup, Rotation
Here's a possible look at what the team would like with these two additions: 
Rotation
LHP Carlos Rodon
LHP Justin Steele
RHP Marcus Stroman
RHP Kyle Hendricks
RHP Keegan Thompson/LHP Drew Smyly
Lineup
CF Brennen Davis
SS Trea Turner
LF Ian Happ
RF Seiya Suzuki
2B Nico Hoerner
DH Franmil Reyes
1B Matt Mervis
C Yan Gomes
3B Christopher Morel
Now, this lineup is completely flexible and will likely be much different with additional offseason moves. However, even looking at this lineup on a daily basis makes for more excitement than the one we've seen most of the 2022 season. 
What's On Tap Next?
For the Cubs, it becomes a waiting game until the winter approaches. However, there is a large level of anxiety and eagerness surrounding the team's future. A few big signings, promotions of key prospects, and all of a sudden the Cubs faithful will have a team worth competing again to root for. 
Who knows what will happen, but hearing that high profile players want to join the up and coming Cubs brings optimism for the years ahead at Wrigley Field.