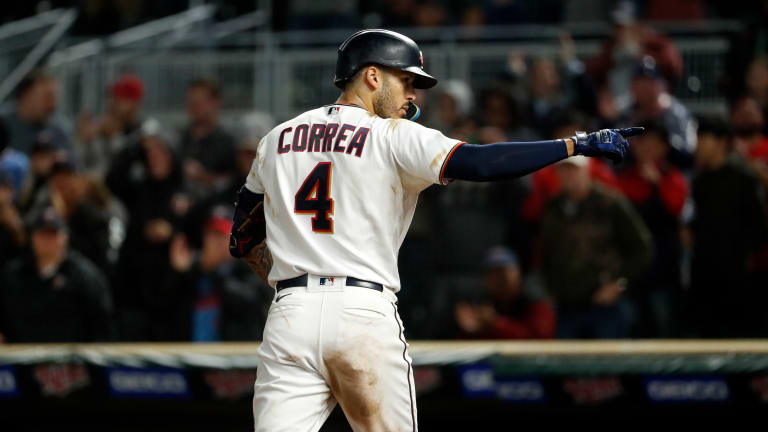 Carlos Correa to Opt Out of Contract: Are The Cubs a Potential Landing Spot?
The star shortstop will reportedly opt out of his contract with the Twins. Could the Cubs be a potential landing spot?
According to Puerto Rican news outlet El Nuevo Día, Minnesota Twins' shortstop Carlos Correa will opt out of his contract with the Minnesota Twins and will become a free agent.
The Chicago Cubs have long been rumored to be in the hunt for a shortstop this offseason, and there's an impressive list to choose from.
Trea Turner of the Dodgers, Dansby Swanson of the Braves, and Xander Bogaerts of the Red Sox will all become free agents at the end of the year. Correa will join that list of superstar shortstops, all of whom could make a huge impact on a franchise.
Correa missed nearly 30 games due to injuries but still put up impressive numbers this season. In 136 games, the two-time All-Star slashed .291/.366/.467 with 22 home runs, 24 doubles, and 64 RBIs.
The 28-year-old could be a huge boost to the lineup if the Cubs decide to give the Gold Glover a call. Throughout his career, he's averaged 28 home runs, 101 RBIs, and an .836 OPS per season.
But the Cubs must not be overaggressive in their pursuit (if they plan to pursue Correa). In his press conference on Monday, Cubs' president Jed Hoyer talked about competing next year but placed emphasis on intelligent spending and getting the right information about potential acquisitions.
Is Carlos Correa the right move for the Chicago Cubs? Maybe, but then again, maybe not.
Obviously, a player of his caliber can bolster Chicago's offense, but at what cost? Would his contract become another lengthy, Jason Heyward-like situation?
Furthermore, roster balance comes into play. Would Nico Hoerner be okay with moving over to second base to make room for Correa?
There are a plethora of questions for the Cubs to consider before any signing is made. But one thing is certain: it's going to be a wild offseason.